Summer travel is in full swing, and Virginians are hitting the road for vacation. Road trips can be enjoyable, but more time behind the wheel means an increased chance of a car accident. According to the National Safety Council, July is the busiest month of the year on American roads, which can be a recipe for disaster. Any traffic collision can be catastrophic, but an accident that involves a large truck is more likely to kill. In 2021, more than 4,700 people died in large truck crashes nationwide. Most of these fatalities were pedestrians, cyclists, motorcyclists, and the occupants of other vehicles. There were 2,645 large truck crashes in the same year. 
Large trucks are a fundamental part of the economy and carry billions of dollars worth of goods annually. The size of tractor-trailers allows for more efficient transport but also makes them more dangerous to passenger vehicles. A large truck is 20 to 30 times the size of the average car, which means they are more likely to cause severe damage in a crash. Additionally, large trucks have blind spots extending up to 30 feet, making it difficult for drivers to see smaller cars. You may end up injured in a Virginia trucking accident that wasn't your fault, no matter what precautions you take. However, there are still actions you can take to avoid crashes with negligent truck drivers. For example:
Avoid Blind Spots
The average passenger sedan has a blind spot of 13 feet. In comparison, a large truck has a blind spot of 30 feet behind the vehicle and 20 feet in front of it. Many large truck accidents happen because a truck driver can't see the involved cars. Some assume a truck driver has a better vantage point because their tractor-trailers sit higher than passenger cars, but the opposite is true. Give large trucks as much distance as you can while on the road. 
Give Trucks Space
Following another car too closely is always a bad idea. Drivers in a hurry and impatient with another driver's speed may choose to maintain an unsafe distance. Tailgating a large truck is even more dangerous because of the potential for an under-riding accident. These crashes occur when a smaller vehicle slides under a large truck and are often fatal. 
Pass On The Left
When passing a large truck, passing on the left instead of the right is essential. A truck's most prominent blind spots are on the right, so the risk of an accident is elevated. You should make sure you can see the driver in their side mirror before you attempt to pass. If you can't see them, they likely can't see you. Make sure that there's ample room to pass before you try. 
Stay Focused
One of the best ways to stay safe behind the wheel is one of the simplest: keep your eyes on the road and don't let potential distractions tempt you. Virginia has been ranked one of the worst states in the country for distracted driving, and a driver responding to a text message or fiddling with GPS navigation will have a slower response time to potential threats. Avoid driving while tired, and never drive under the influence of alcohol or drugs.
Wear A Seatbelt
Putting on your seatbelt before you leave may seem like a small task, but it can be the difference between minor injuries and losing your life in a large truck crash. Passengers not wearing seat belts are more likely to be ejected from their vehicles, drastically increasing the risk of fatality. 
After A Virginia Truck Accident
You can take every possible precaution and still end up in a serious accident. You can't control how others behave on the road, and a truck driver's negligence can instantly change your life. Even if you're fortunate enough to survive a truck accident, the chance of catastrophic injury is high. Large truck crashes commonly cause amputations, traumatic brain injuries, severe burns, and spinal cord injuries. These catastrophic injuries can lead to hefty medical expenses, creating unexpected financial strain. To worsen things, a devastating injury can make it impossible for someone to return to work, leaving them with no way to pay their bills.
After an accident, you should prioritize finding a Virginia truck accident lawyer. Trucking accidents are unique for a few reasons, including the amount of resources trucking companies have to fight bodily injury claims, the severe nature of injuries caused by trucking accidents, the many possible factors contributing to the trucking accident, and the number of parties that are potentially liable for your injuries. 
This summer, do everything you can to stay safe on the road — but if you're involved in a Virginia truck accident, you'll need an experienced lawyer. Our team at Curcio Law will fight for you to get compensated for the wrongful death of a loved one or losses such as pain and suffering, medical bills, lost wages, and future medical expenses if you are injured. Call or text us at 703-836-3366 or contact us to schedule a free truck accident case consultation.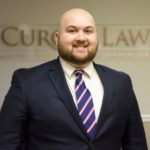 Rakin Hamad joined Curcio Law as an associate in August 2018 after graduating from George Mason Law School. During law school, Rakin demonstrated his dedication to client advocacy and was a member of the trial advocacy association, the pro bono society, and the George Mason Law Review. His approach to the law mirrors the firm's philosophy of treating each client with commitment, compassion and character. Contact Rakin at rhamad@curciolaw.com.