It should not come as a surprise to learn that injuries can be catastrophic when a passenger vehicle is involved in a crash with an 18-wheeler. Large, working trucks normally weigh over 10,000 pounds which is more than three times the weight of the cars they share the roads with. Unfortunately, due to this massive size difference, the people in passenger vehicles are most often seriously injured or killed when involved in a crash with a truck. 
Catastrophic injuries associated with these crashes can include loss of arms or legs, spinal cord injuries, nerve damage, paralysis, severe burns, and even death. Due to the severity of the injuries, medical costs associated with truck accidents can become astronomical. Victims must handle medical bills while often losing their jobs and income due to their injuries. A serious crash with a truck can turn into a life-altering event with long-term medical needs.
This is why accident victims should consider hiring a Virginia trucking accident attorney.
Why Virginia Truck Accidents Happen
Eighty percent of the cargo in the United States is transported by truckers, four times as much as rail, air, water, and pipeline combined, so big rig accidents are not going away anytime soon. In Virginia, hundreds of trucks fill the highways and interstates daily, yet smaller roads and neighborhood streets are not immune to large truck crashes. Last year, more than 2,000 crashes involved commercial vehicles in Virginia, according to the Virginia Department of Motor Vehicles data. 
More often than not, large truck crashes are avoidable. The Federal Motor Carrier Safety Administration (FMCSA) has found that 88 percent of all truck accidents were caused by an action (or inaction) of a driver involved.
Common reasons for trucking accidents include speeding, illegal drug and alcohol use, and distracted driving. In addition, it is not unusual that a truck crash occurs due to cargo being loaded incorrectly. Unbalanced cargo can make the truck dangerous to drive, or the cargo itself can become loose and hazardous to other drivers on the road.
Another factor in large truck crashes is sleep deprivation; truckers often drive more than 11 hours at a time. These types of drivers are responsible for more than 6,400 deaths every year.
Benefits of Hiring An Attorney To Handle A Truck Accident Case
It's important to understand that the truck driver may have access to legal resources through their employer or insurer after a truck accident. So when someone is injured, or a family member has been killed, it is crucial to recognize that hiring an experienced Virginia truck accident attorney is invaluable. Filing a claim against a truck driver or the trucker's company can be complicated. An experienced attorney can fight for the proper compensation to cover medical bills, loss of work, pain and suffering, and hold all responsible parties accountable. 
An attorney fighting for the injured party can determine who is responsible. This could include the truck driver, the driver's employer, a third party such as a broker, or the truck maker, if a defect contributed to the crash. They also can study the facts and communicate with all entities involved, such as speaking with law enforcement and insurance adjusters. An attorney taking over the discussions will ensure you have fair representation. They can gather evidence to strengthen the case, negotiate settlements, and focus on your concerns and needs. Having an expert on your side handling the stressful tasks of a truck accident lawsuit allows accident victims or their family members to focus on their physical health and recovery. 
If you are involved in a large truck accident, it is vital to have someone who understands the case, how to gather essential documents, interviews, and other materials to show proof of who is at fault, and the know-how to see the litigation through. An experienced Virginia truck accident attorney like those at Curcio Law can fight for compensation to cover medical bills, lost wages, damaged property, physical therapy, pain and suffering, and long-term medical care if necessary. The case can be complex, and having an attorney on your side can make a difference that can be felt for a lifetime.
For more information or if you need help determining your legal options after a trucking accident, Curcio Law is ready to help. Call or text us at 703-836-3366 or contact us online to schedule a free consultation.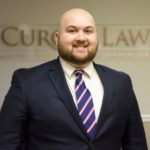 Rakin Hamad joined Curcio Law as an associate in August 2018 after graduating from George Mason Law School. During law school, Rakin demonstrated his dedication to client advocacy and was a member of the trial advocacy association, the pro bono society, and the George Mason Law Review. His approach to the law mirrors the firm's philosophy of treating each client with commitment, compassion and character. Contact Rakin at rhamad@curciolaw.com.