People will always need products and services, from food, clothing, and toys to household items, cars, and fuel. Ground freight services offered by the trucking industry are still the most reliable way to transport these crucial goods. In fact, truckers provide more than 70 percent of current freight transportation.
Unfortunately, the U.S. is facing a dire nationwide shortage of truck drivers that is expected to worsen before improving. And without competent truck drivers on the roads, the American supply chain will suffer. A lack of drivers also means that existing truckers and trucking companies may compensate for their absence by skirting safety regulations and rushing through routine inspections. This can lead to more Virginia trucking accidents, which can be much deadlier than those experienced by passenger vehicle accidents. 
Let's look into what is behind the trucker shortage and what's being done to get more drivers on the road. 
Why is There a Truck Driver Shortage?
There are about 3.5 million truck drivers on American roads – tens of thousands less than what's needed to meet the ever-increasing demand for goods.
Bob Costello, chief economist at the Arlington-based American Trucking Associations (ATA), forecast a shortage of 64,000 drivers this year, with a shocking jump to 82,000 or more in 2024. The ATA says that the shortage could more than double by 2030. 
Costello believes the commercial trucking industry will need more than one million new drivers over the next ten years to replace retiring drivers, the most prominent reason behind the shortage. There are five times as many truckers over age 55 as younger drivers.
Some experts believe that the appeal of the truck driver life has dropped since the 1980s when the industry transformed from union-supported to deregulated in the name of competition. This change sparked a flood of new trucking companies and big box stores that could afford to pay drivers less while intensifying their workloads. The turnover rate at typical trucking companies averages about 95 percent.
Other reasons for a lack of truck drivers include:
Not enough new drivers; many young workers are discouraged from the trucking industry by loneliness, low pay, and lack of benefits

Industry failure to attract women, minorities, and veterans; women make up just seven percent of commercial truck drivers

Candidates who can't pass a drug test, coupled with increasing marijuana legalization

The difficulty of earning a commercial driver's license (CDL)
What is the most concerning factor that makes American workers hesitant to become truckers? Dangerous working conditions. Truck drivers are ten times more likely to be killed at work than the average American employee. And because the shortage means current truckers have to pick up the slack, this has become an endless cycle that can only be solved by an increase in competent commercial drivers.
How Does Driver Shortage Cause Truck Accidents?
Safety protocols are in place for truckers, such as a required resting period and limits on drive time, weight, and speed. However, supervisors always face the threat of too much demand to handle, which threatens the company's bottom line. As a result, many truckers are pressured to complete more deliveries on tighter deadlines, forcing them to cut corners and risk more truck crashes.
Dangerous truck driving behavior caused by this pressure includes:
Driving too long without breaks, causing drowsiness and fatigue 

Carrying loads over legal limits, increasing the risk of losing control 

Speeding

Distracted driving, such as constantly watching the clock, worrying about hitting a deadline, cell phone use
Furthermore, understaffed trucking companies often lead to poorly maintained trucks and shoddy mechanical and safety inspections. 
Efforts Underway to Ease Truck Driver Shortage
While the truck driver shortage won't end soon, promising changes are on the horizon. 
One of the ways to help is by attracting more competent drivers to the industry by offering better pay, benefits, and working conditions, such as hotel stays instead of sleeping in trucks.
The Virginia Ready Initiative (VA Ready) is a nonprofit organization working with the state's community colleges to help Virginians earn credentials for three industries needing workers, including trucking. In January 2022, VA Ready partnered with the Virginia Trucking Association (VTA).  
VTA President and CEO Dale Bennett said the partnership has put 1,000 new truck drivers and counting on the road as of June 2023. The average age of enrollees is mid-30s; Bennett suspects this means many young workers wanted to get into trucking but previously had no clear path. 
Another considerable issue contributing to the shortage was a federal law prohibiting truckers under 21 from crossing state lines. In 2020, the Federal Motor Carrier Safety Administration (FMCSA) proposed a pilot program to lower this age to 18, which was finally implemented nationwide with the passage of the 2021 Infrastructure Investment and Jobs Act (IIJA). 
In September 2023, more relief came in the form of a FMCSA grant. $48 million will go toward increasing CDL driver training opportunities and streamlining the licensing process. $3 million from President Biden's Infrastructure Law will enable recipients of this grant to train more veterans, people from refugee communities, and other under-utilized Americans as skilled truck drivers.
As encouraging as these improvements are, many trucking accidents happen daily. Injuries from a large truck crash tend to be more severe and physically and mentally damaging than those in cars. If you've been injured in a commercial truck accident, you need an accomplished Virginia truck accident attorney to get you fully compensated. Curcio Law is ready to help, whether you want to open a case or get some advice. Call or text 703-836-3366 or go online to schedule your free consultation.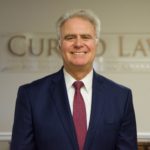 Tom Curcio has devoted his career to representing people seriously injured or killed in car, pedestrian, bicycle, and truck crashes, and by dangerous dogs, unsafe products, and premises. He works tirelessly to obtain the compensation his clients are legally entitled to so they may rebuild their lives with dignity. Tom is the co-author of the book Evidence For The Trial Lawyer, and a much sought-after speaker on personal injury, trial practice, evidence, and professionalism. Contact Tom at tcurcio@curciolaw.com.