Distractions like cell phones lead to thousands of deaths on the nation's highways every year. The Centers for Disease Control and Prevention (CDC) reported that in 2018 alone, 2,800 people in the United States were killed, with 400,000 more injured in crashes involving a distracted driver. 
On top of that, about one in five of the people who died in crashes involving a distracted driver that year were not in vehicles. Instead, they were pedestrians or cyclists.
Last year, in Virginia alone, there were more than 23,000 crashes due to distracted driving.
To curb the number of vehicle crashes caused by distracted cell phone users, Virginia lawmakers, who in 2009 banned texting while driving, have put a new law into effect as of January 1, 2021. It is now illegal to hold a cell phone while driving. The law was adopted back in June but only became effective this month to allow education for the public on the provisions. A first offense is punishable by a $125 fine. A second or subsequent offense is punishable by a fine of $250.
The new law (Code of Virginia 46.2-1078.1) includes the following: 
It is unlawful for any person to operate a moving motor vehicle on the highways in the Commonwealth while using any handheld personal communications device to manually enter multiple letters or text in the device as a means of communicating with another person; or read any email or text message transmitted to the device or stored within the device, provided that this prohibition shall not apply to any name or number stored within the device nor to any caller identification information.
The law also includes a ban on drivers holding handheld personal communications devices while driving in highway work zones. There are several exceptions for this portion of the law, which is punishable by a $250 fine if broken. 
These include:
The operator of any emergency vehicle while he is engaged in the performance of his official duties;

An operator who is lawfully parked or stopped;

The use of factory-installed or aftermarket global positioning systems (GPS) or wireless communications devices used to transmit or receive data as part of a digital dispatch system; or

Any person using a handheld personal communications device to report an emergency.
Related Articles: Distracted Driving Kills. It's Time To Put The Cell Phone Down!
Are cell phones and texting while driving that risky?
Yes. There are three different types of distractions while driving. They include manual distractions when you take your hand off the wheel; visual distractions when you take your eyes off the road; and cognitive distractions, when you take your mind off driving.
Experiencing just one of these distractions can be cause for concern. Unfortunately, drivers should be even more cautious when it comes to cell phones because they involve all three types of distractions. When a person texts while driving, the crash risk increases by 2,300 percent.
 If this high percentage doesn't sway you, here's one more fact. According to the CDC, sending or reading a text on a cell phone while driving 55 miles per hour is like driving the length of a football field with your eyes closed. Unfortunately, instead of a touchdown, people may lose their lives.
If you haven't done so already, it's time to break the habit of using a cell phone while driving. Put your phone out of reach, use the "Do Not Disturb" mode, or turn your phone off completely. In Virginia, it's now the law, so put the cell phone down.
At Curcio Law, the result of distracted driving, unfortunately, contributes to a lot of our cases. We support the End Distracted Driving (ENDDD.org) initiative, an organization founded by the parents of a 21-year-old woman killed by a distracted driver. Curcio Law has provided ENDDD presentations to hundreds of newly licensed drivers, local school students, and members of various civic organizations to educate younger drivers and their parents about the dangers of distracted driving. We have also partnered with Bishop Ireton High School to support their Students Against Destructive Decisions (SADD) program, a nationwide initiative aimed at providing information to help young people make positive decisions that advance their health and safety. If you would like more information about distracted driving, check out Tom's recent presentation to Bishop Ireton high school students on our YouTube channel.
Ending distracted driving is a problem that Curcio Law is committed to trying to end, and this new law is an excellent step in that direction. If you or someone you know is involved in an accident due to a distracted driver, Curcio Law can help you navigate this challenging situation. Give us a call or text us at 703-836-3366, email info@curciolaw.com, or visit www.curciolaw.com.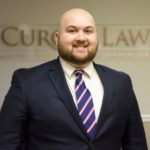 Rakin Hamad joined Curcio Law as an associate in August 2018 after graduating from George Mason Law School. During law school, Rakin demonstrated his dedication to client advocacy and was a member of the trial advocacy association, the pro bono society, and the George Mason Law Review. His approach to the law mirrors the firm's philosophy of treating each client with commitment, compassion and character. Contact Rakin at rhamad@curciolaw.com.