If you're driving and your cell phone rings, what do you do next? We all know what the right answer is — ignore it until you've safely reached your destination — but data shows us that most Americans would pick up the phone. 
Per the National Conference of State Legislatures, up to 80 percent of people in the U.S. with cell phones use them while driving. If you're among the millions of drivers who call, text, or scroll through social media when you're behind the wheel, you may think you aren't in real danger. Statistics show us differently. 
According to a report from the Virginia Highway Safety Office, 120 Virginians died, and 13,258 were injured due to distracted driving in 2019. The top three reasons people were distracted on Virginia roads? They took their eyes off the road, decided to look at a roadside accident, or were preoccupied with their cell phones. Virginia isn't the only state with a distracted driving problem: Nearly 3,000 people die in distracted driving crashes every year across the nation, and distracted driving costs Americans $129 billion annually. 
Why Do We Use Our Phones While Driving?
We feel invincible. Have you ever seen a tragic story on the news and comforted yourself by thinking it wouldn't ever happen to you? The same principle applies to distracted driving — even after hearing the dangers, you may continue using your cell phone because you don't feel at risk. Every month I deliver the End Distracted Driving presentation to new drivers and their parents at the Alexandria courthouse. It's important to explain to these new (and experienced) drivers that no one is safe from the hazards caused by phone use while driving.
We get bored. The average person has an attention span of eight seconds, so it's no surprise that you might find a traffic jam boring when we're used to being glued to our screens. Ask yourself if it's worth endangering yourself and the people around you to feel entertained. Even if you aren't in an accident, you could find yourself facing a traffic ticket and hefty fine here in Virginia, where texting and driving is illegal. 
We hate feeling disconnected. "FOMO," or fear of missing out, is a slang term that describes genuine anxiety: the feeling that you're missing something exciting or enjoyable. You may worry that putting your phone down while driving means you'll be late responding to a funny text message or email thread, but the tradeoff simply isn't worth it.
How To Stop Driving Distracted
Put your phone out of reach. Keeping your phone in the backseat or glove compartment makes it impossible for you to glance at it without exerting a lot of effort. If you find yourself mindlessly picking up your phone while driving, this may be an effective solution.
Use "Do Not Disturb" mode. Most smartphones allow you to use "do not disturb" to silence notifications. Enabling this feature in settings makes it easier for you to keep your eyes on the road without getting sidetracked by a call or text message.
Turn your phone off. If all other solutions fail, it's good to power your phone completely off and stow it away. Even if you reach for it, you'll be reminded of the dangers of distracted driving once you remember that it isn't on. 
If you or someone you know has been involved in an accident due to a distracted driver, Curcio Law can help you navigate this challenging situation. Give us a call or text us at 703-836-3366, email info@curciolaw.com, or visit www.curiciolaw.com.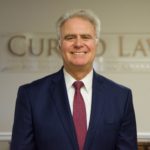 Tom Curcio has devoted his career to representing people seriously injured or killed in car, pedestrian, bicycle, and truck crashes, and by dangerous dogs, unsafe products, and premises. He works tirelessly to obtain the compensation his clients are legally entitled to so they may rebuild their lives with dignity. Tom is the co-author of the book Evidence For The Trial Lawyer, and a much sought-after speaker on personal injury, trial practice, evidence, and professionalism. Contact Tom at tcurcio@curciolaw.com.