The Federal Motor Carrier Safety Administration (FMCSA) was created on January 1, 2000, by the Department of Transportation to help prevent commercial motor vehicle-related fatalities and injuries. Most commercial motor vehicle carriers are large trucks and buses. As we have discussed before, motor vehicle collisions involving large trucks or buses are extremely dangerous and, unfortunately, sometimes fatal. 
Thankfully, the FMCSA has regulated these large commercial motor vehicle carriers, and you can expect these carriers and drivers to comply with the below rules. The partial list of published rules below applies to interstate motor carriers. Importantly, most states have adopted similar rules for intrastate motor carriers. 
You Must Know the Rules

: Every employer must be knowledgeable of the FMCSA regulations, and every employee/driver must be instructed on these regulations (49 CFR § 390.3(e))

You Must be Qualified to Drive

: A person shall not drive a commercial motor vehicle unless they are 21 years old, can read and speak English sufficiently, is physically qualified to drive, has a valid commercial motor vehicle operator's license, and has prepared and furnished a list of violations to their employer (49 CFR § 391.11)

No Speeding

: A motor carrier shall not schedule a trip between points in a period of time that would necessitate the commercial motor vehicle being operated at a speed greater than the speed limit of that jurisdiction (49 CFR § 392.6)

Driving Hours Restriction

: A driver may not drive for more than 14 consecutive hours and must take 10 consecutive hours off duty before driving again (49 CFR § 395.3)

Every Vehicle Must be Routinely Inspected

:  Every 90 days, the vehicle must be systematically inspected, repaired, and maintained, including pushout windows, emergency doors, and emergency lights (49 CFR § 396.3)

Driver Records

: The drivers must submit written reports after each day they operate the vehicle regarding the vehicle's service brakes, parking brakes, steering mechanism, lighting devices, tires, horns, windshield wipers, rear mirrors, and emergency equipment (49 CFR § 396.11)
These regulations help ensure that the public can trust that trucks and buses on the roads are safe. While these regulations are helpful, due to the sheer size of trucks and buses, collisions involving trucks and buses will always lead to more serious injuries. That is why if you or anyone you know has been injured in a collision involving a truck or bus, you should consult an experienced trucking accident attorney. An experienced trucking accident attorney will know these regulations and investigate if the motor carrier complied. 
Curcio Law has nearly 40 years of experience in personal injury cases, including trucking accidents. We treat each client like our most important client and stand behind our firm's reputation for commitment, compassion, and character. Call or text us today at 703-836-3366 or contact us on our website for a free consultation.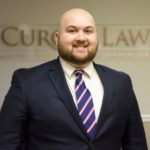 Rakin Hamad joined Curcio Law as an associate in August 2018 after graduating from George Mason Law School. During law school, Rakin demonstrated his dedication to client advocacy and was a member of the trial advocacy association, the pro bono society, and the George Mason Law Review. His approach to the law mirrors the firm's philosophy of treating each client with commitment, compassion and character. Contact Rakin at rhamad@curciolaw.com.