The National Highway Traffic Safety Administration (NHTSA) has announced an investigation into a July crash between a Tesla Model Y vehicle and a tractor-trailer truck in Warrenton, Virginia. The crash occurred when the tractor-trailer pulled out of a truck stop. As the truck pulled onto the highway, the driver of the Tesla collided with the truck and slid under the tractor-trailer. The 57-year-old Tesla driver was pronounced dead at the scene, and the truck driver was cited for reckless driving. The NHTSA conducts special crash investigations about 100 times a year, only inquiring into a fraction of the millions of car crashes annually in the U.S. 
The federal government's interest in this particular Virginia trucking accident may be related to Tesla's Autopilot feature. Tesla vehicles have been involved in a number of accidents with emergency vehicles, merging trucks, and other stationary objects. These accidents have raised concerns about the safety of Tesla's Autopilot system, which is a driver-assistance system that can help with steering, acceleration, and braking. This is because radar systems, which are used by Autopilot, are better at detecting moving objects than stationary objects. Additionally, Autopilot may not be able to distinguish between a stationary object and a vehicle that is merging into traffic.
While the Autopilot system is technologically advanced, it isn't a proper substitute for a driver remaining alert. Tesla cautions drivers to pay attention to the road while using the system. The NHTSA has investigated nearly 40 Tesla crashes since 2016. The latest tragedy highlights the danger of truck crashes. 
Underride Truck Crashes
When two passenger vehicles collide, there's a possibility that someone may die, but the chance is slim. Under 1% of car crashes end fatally in the U.S. The risk of death or severe injury substantially increases when a large truck is involved, and statistics show that the passengers in a car are more likely to experience injury or death. Underride truck crashes are unfortunately one of the most dangerous types of crashes and often end tragically.
Underride crashes happen when a smaller car slides underneath a larger vehicle. They are prevalent with tractor-trailers because of how much space there is between the trailer, wheels, and ground. Cars are designed to protect you in a crash, but many safety features are rendered useless during an underride crash. During these collisions, the top of the smaller vehicle is commonly cut off, which leaves a car's occupants vulnerable to injury during a crash. If a truck driver acts recklessly by running a red light or ignoring a stop sign, the chances of an underride are markedly higher. 
Hundreds of people die annually from underride crashes per crash data, but that number is likely underreported. Some states don't have an "underride" category for law enforcement officers to mark when preparing police crash reports. These crashes are widely preventable, but federal regulators have failed to enact safety standards that reduce the risk of underride collisions and undoubtedly save lives.   
Reducing Underride Truck Crashes
Are there solutions available to reduce the risk of underride truck crashes? Research has shown that side and rear guards, usually made out of steel bars, are a powerful barrier that can keep the roads safer. These bars can be added to the rear and sides of large trucks, but federal regulators have resisted pressure to strengthen safety requirements, partly due to lobbying from trucking companies. Underride guards don't stop cars from colliding with trucks but can significantly decrease the chance of death. The NHTSA updated its underride guidelines last year, but the agency was criticized by advocates who said the new rules weren't strict enough.
Survivors of underride crashes are incredibly fortunate but may still face catastrophic injuries. Broken bones, spinal injuries, amputations, organ damage, brain injuries, and paralysis regularly result from these crashes. In an instant, an underride crash victim's life may change for the worse. If you or a loved one have been involved in any type of Virginia truck crash, there's a good chance you're reeling from the aftermath. 
You should know that you can recover damages from the truck driver and trucking company to help compensate you for your losses. You may be dealing with medical bills, unexpected costs, and the emotional suffering that often follows an accident. You'll need a personal injury attorney to help you navigate the process, and it's important to find a law firm with a track record of successfully handling Virginia truck crashes. Curcio Law has an experienced team of Virginia truck accident attorneys who can seek justice for you. Call or text us at 703-836-3366 or contact us online for a free consultation.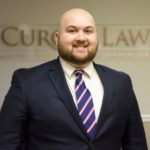 Rakin Hamad joined Curcio Law as an associate in August 2018 after graduating from George Mason Law School. During law school, Rakin demonstrated his dedication to client advocacy and was a member of the trial advocacy association, the pro bono society, and the George Mason Law Review. His approach to the law mirrors the firm's philosophy of treating each client with commitment, compassion and character. Contact Rakin at rhamad@curciolaw.com.