Lindsey Transportation Solutions, Inc. is under investigation by Department of Justice relating to its guardrail product, the X-Lite End terminal. According to the company's End of Year (June, 2019) S.E.C filing, it is being investigated by the Civil Division of the Department of Justice and the U.S. Attorney for the Northern District of N.Y. They are being assisted by the Office of the Inspector General of the Department of Transportation in connection with its X-Lite guardrail end terminals, and other potential violations of the federal False Claims Act.  
As I wrote in April, multiple lawsuits have been filed against Lindsay Transportation Solutions (and related companies) alleging that the X-Lite End terminals are defective, causing serious injuries and death of vehicle occupants. On impact, the X-Lite end terminal is designed to telescope, with one section of the horizontal guardrail collapsing upon the other, thereby absorbing energy, and slowing the vehicle to a stop. Unfortunately, in real-world use along our nation's highways, the X-lite has not performed as designed and marketed. Rather than collapsing one upon another upon impact, the guardrails have instead pierced the passenger compartment causing severe and fatal injuries. 
We are currently representing the family of a woman killed when her car struck an X-Lite terminal along I-66 in Fauquier County Virginia and the terminal failed to collapse, instead it overrode the hood, and penetrated the passenger compartment. 
Under the Federal Highway System, federal funds are available to reimburse state highway systems for safety device, such as guardrails that are purchased and installed along our federal highways, provided such systems meet designated safety standards. As a practical matter, meeting such standards and obtaining an "eligibility letter" is of great value to a manufacturer or seller of such safety systems. 
The Lindsey X-Lite End terminal was approved by the Federal Highway Administration for federal reimbursements and an eligibility letter was issued in September, 2011. The eligibility letter expressly provides eligibility can be revoked if the FHA determines that the testing was flawed, that the product marketed is materially different that that approved, or if in-service performance reveals unacceptable safety problems. Regarding the submitted testing results, Safe Technologies, Inc., the company performing the crash tests on the X-Lite, is a subsidiary of Lindsey Transportation. 
The False Claims Act subjects a person or entity to monetary penalties for knowingly submitting a false or fraudulent claim for payment to the federal government. The exact nature of the false claim being investigated by the DOJ and U.S. Attorney's Office has not yet been made public. We will continue to monitor this investigation and will add updates on Northern Virginia Legal Examiner when available.
If you or a loved one has been impacted by an accident involving a guardrail and would like more information related to defective guardrails along our nation's highways, contact our office at 703-836-3366 or visit our website curciolaw.com.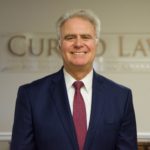 Tom Curcio has devoted his career to representing people seriously injured or killed in car, pedestrian, bicycle, and truck crashes, and by dangerous dogs, unsafe products, and premises. He works tirelessly to obtain the compensation his clients are legally entitled to so they may rebuild their lives with dignity. Tom is the co-author of the book Evidence For The Trial Lawyer, and a much sought-after speaker on personal injury, trial practice, evidence, and professionalism. Contact Tom at tcurcio@curciolaw.com.