Recently, multiple lawsuits have been filed against Lindsay Transportation Solutions for allegedly endangering people's lives with defective highway guardrails. Their controversial X-Lite End Terminals have been associated with several deaths caused by the failure of the end terminal, or starting point, of the guardrail.
On impact, the X-Lite end terminal is designed to telescope, with one guardrail collapsing upon the other, and thereby absorbing energy and slowing the vehicle to a stop. Rather than performing as designed and marketed, the end terminals have not collapsed and instead have pierced the passenger compartment causing severe and fatal injuries.
Guardrails are typically put in place as a safety barrier to protect drivers who leave the roadway from hazards that cannot feasibly be removed from the side of the road, such as trees, utility poles, or steep slopes and cliffs. In other words, guardrails are put in place when the risk of injury or death is more likely than if they were not there.
There have been multiple reports of fatal accidents occurring due to Lindsay guardrails piercing through the car and spearing drivers. In 2016, a Tennessee 17-year-old named Hannah Eimers veered off the road, hitting a X-Lite guardrail. The guardrail failed to telescope, piercing through Eimers' car and causing fatal injuries. To make matters worse, Eimers' family was subsequently sent a bill for nearly $3000 after her death to replace the guardrail.
This is far from an isolated incident. In fact, the X-Lite guardrail has been attributed to at least seven deaths in Missouri, Tennessee, and Virginia alone, leading to multiple lawsuits against Lindsay. This includes 59-year-old George Jansen, who hit a guardrail when his truck veered off the road. Just like Eimers, the guardrail failed and impaled Jansen, who died at the scene of the crash.
We are currently representing the family of a 37-year-old woman killed on I-66 in Fauquier County when her car struck an X-Lite end terminal, and it pierced the passenger compartment.
As of March 2018, a promising 13 states have pledged to remove Lindsay guardrails. This includes Maryland, which has officially begun the process of replacing the nearly 990 X-Lites from area roads. Unfortunately, the process could take up to two full years to complete, meaning that public safety is still at risk—potentially resulting in more needless injuries and death. While Virginia has removed the X-Lite end terminals from its approved highway products list and is no longer installing them, it has not taken the life-saving steps of removing them from our roadways.
If you or a family member has fallen victim to a defective Lindsay X-Lite guardrail, it is essential that you consult an attorney who is experienced in such cases as soon as possible following the incident. Curcio Law can help you steer a successful course through such litigation, and is ready to hear the details of your case with a free consultation.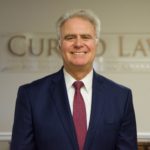 Tom Curcio has devoted his career to representing people seriously injured or killed in car, pedestrian, bicycle, and truck crashes, and by dangerous dogs, unsafe products, and premises. He works tirelessly to obtain the compensation his clients are legally entitled to so they may rebuild their lives with dignity. Tom is the co-author of the book Evidence For The Trial Lawyer, and a much sought-after speaker on personal injury, trial practice, evidence, and professionalism. Contact Tom at tcurcio@curciolaw.com.