Being stuck driving behind garbage or dump trucks is not just annoying; it can be dangerous too. You may not think of these trucks as dangerous like you would a commercial semi-truck. Although garbage or dump trucks may only have two or three axles, they are considered large trucks by the Federal Motor Carrier Safety Administration (FMCSA) due to their average weight of more than 26,000 pounds. This means they can easily cause serious or fatal trucking accidents.
The FMCSA is a federal agency devoted to preventing fatalities and injuries related to commercial motor vehicles. Their 2019 report on national large truck and bus crash statistics shows a sobering increase in truck crashes, including single-unit vehicles such as garbage and dump trucks.
Over 4,800 large trucks were involved in fatal crashes in 2019

Large truck fatal crashes increased 47 percent between 2009-2019

83 percent of fatal and 86 percent of non-fatal large truck crashes occurred on weekdays, the time when garbage and dump trucks are most active

In 2017, there were over 1,400 single-unit trucks in fatal crashes; 380 of those were dump trucks, and 107 were garbage trucks

In 2019, more than 1,800 people died in single-unit truck crashes
In 2020, Virginia alone saw more than 2,500 accidents involving large trucks. 
Why are Garbage and Dump Trucks So Dangerous?
In Virginia, a two-axle truck is allowed a max gross weight of 40,000 pounds; a three-axle can be as much as 60,000 pounds. Most of the weight is from the truck itself, so adding a neighborhood's worth of garbage may mean they will reach their legal weight limit even before they are full. Drivers also tend to be less cautious around dump or garbage trucks because they are slow-moving.
Large garbage and dump trucks are allowed down narrow streets and alleyways closed to commercial trucks. Sanitation workers continually jump on and off during long shifts while streets are still dark. Dump trucks are often laden with huge chunks of rock, concrete, and other construction materials. These unique characteristics make dump and garbage trucks more dangerous, in some ways even more so than big commercial rigs.
Causes of Garbage and Dump Truck Accidents
The leading causes of large truck accidents in Virginia include careless driver actions such as changing lanes without checking for other vehicles, following too close/tailgating, speeding, and improper turning (e.g., illegal U-turns or turning without stopping first). Most of these can be exacerbated when it comes to dump and garbage trucks because they make hundreds of stops per day on residential roads.
Other common causes of dump and trash truck accidents include:
Drivers behind them getting frustrated and following too close or suddenly swerving around

Blind spots due to these trucks being bulky and having few or no windows

Repeated trips with heavy loads

Constant stops and starts, increasing the risk of unknowingly dropping dangerous debris

Poorly maintained roads with uneven surfaces and potholes

Dangerous actions, such as aggressive or distracted driving, by workers under enormous pressure to get the job done quickly
One of the biggest problems with garbage and dump trucks is a combination of overloading and improperly adjusted brakes. If workers are adding more than the legal weight limit and mechanics are not keeping up with routine maintenance, brakes and suspension systems can fail and cause serious single-vehicle accidents or accidents causing injury to other motorists, bicyclists, and pedestrians. 
The danger of brakes being out of proper adjustment is a hazard to be especially aware of involving garbage trucks and relates to the number of stops such residential trash trucks make on any given day. In a case that we handled several years ago involving a trash truck crash resulting in our client suffering a brain injury, we learned through discovery that the trash truck company had been cited numerous times for misadjusted brakes.     
Driving Safely Around Garbage and Dump Trucks
The best thing you can do to avoid a collision with a garbage or dump truck is to keep your distance. This will give you more time to deal with the sudden stops or avoid falling debris. Try to refrain from passing these trucks, but if you must, give drivers plenty of time to see you and proceed very carefully. 
Keep your frustration under control so you don't make sudden careless moves. Know your neighborhood's garbage pickup days and leave a few minutes earlier to avoid delays if you are stuck behind a truck. Steer clear of active construction zones where you would be sharing the road with a dump truck. 
Sometimes you can take every precaution, and it's still not enough to avoid a crash with a garbage or dump truck. Careless drivers or companies who fail to maintain their trucks' safety equipment can put you into an accident situation beyond your control. If the roads at the scene of your accident are neglected, you may even be able to hold the city or state accountable. Regardless of who is at fault, it's crucial to hire a Virginia personal attorney experienced in large truck accidents.
The team at Curcio Law has represented truck accident victims throughout Virginia and Washington, D.C., for almost 40 years. We are familiar with the Federal Motor Carrier Safety regulations, which govern the operation of trucks and truck drivers. We are experienced in handling the complicated insurance claims often associated with truck accidents to help you recover the monetary compensation you are legally entitled to receive. Call or text us anytime at 703-836-3366 or contact us here for your free consultation.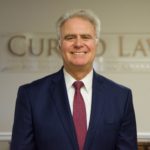 Tom Curcio has devoted his career to representing people seriously injured or killed in car, pedestrian, bicycle, and truck crashes, and by dangerous dogs, unsafe products, and premises. He works tirelessly to obtain the compensation his clients are legally entitled to so they may rebuild their lives with dignity. Tom is the co-author of the book Evidence For The Trial Lawyer, and a much sought-after speaker on personal injury, trial practice, evidence, and professionalism. Contact Tom at tcurcio@curciolaw.com.