As Distracted Driving Awareness Month comes to a close, we believe it's important to remind all drivers about the risks of driving distracted. No matter how many times we are warned about distracted driving, it seems as though drivers continue to put themselves in this dangerous situation. While being a person who can multitask is often praised, as a driver behind the wheel of a car, multitasking can quickly become a deadly distraction. 
Whether responding to a friend with a quick text, programming your GPS, or reaching for a snack, your actions while driving down the road can lead to a fatal car crash.
According to a report by Virginia's Department of Motor Vehicles, in 2020, there were 18,808 crashes involving distracted drivers in Virginia, and of those,121 people were killed. 
Safety experts recognize three types of distractions contributing to distracted driving:  manual distractions, caused when the driver takes their hands off the wheel to adjust the radio or reach for a snack; visual distractions, caused when the driver is looking away from the road to look at a text or email;  and cognitive distractions, caused when the driver lets their mind wander, such a reading a text or email. 
Cell Phone Use Is A Top Driving Distraction
All three types of distractions can occur without the presence or use of a cell, but in the last decade, there has been a severe uptick in the number of crashes due to drivers being distracted by using their cell phones while driving.
According to the National Safety Council, the percentage of drivers across the United States manipulating hand-held electronic devices increased by 1,300 percent between 2005 and 2020. The increased usage of mobile devices while driving has come with even more car crashes.
If a driver is texting, they fall victim to all three types of distractions at once. Their eyes are taken away from what is ahead of them, they are no longer thinking of driving but rather the text communication, and their hands are not on the wheel but instead operating the device. 
When I present the End Distracted Driving talks developed by ENDDD.org to young, new drivers, I compare distracted driving risks to driving while intoxicated. Driving with a blood alcohol content of .08% (the legal limit in Virginia) results in a driver being four times more likely to have a crash than someone with no alcohol in their system. Studies show that a person speaking on a cell phone is also four times more likely to be involved in a crash. While those figures are alarming, it is far worse for a driver texting, who is 23 times more likely to have a crash.        
Although texting and emailing while driving has been banned in Virginia since 2009, in 2020, 1,460 car crashes still involved a cell phone user. Further, 142 crashes involved someone who was texting.
Last year, Virginia lawmakers implemented an effort to halt this problem even further by creating a new law (Code of Virginia 46.2-818.2) that makes it illegal to hold a cell phone while driving on Virginia's highways. A first offense is punishable by a $125 fine. A second or subsequent offense is punishable by a fine of $250. 
Teens Most At Risk of Distracted Driving
Some groups of people are more distracted while driving than others, and historically, teenagers have held the top spot. Over time, with the advent of cell phones and social media, our young drivers have become more distracted than ever before. According to the CDC, a 2019 survey showed that 39 percent of high school students who had driven in the past 30 days admitted to texting or emailing while driving on at least one of those days. Also, when it comes to using their phones, higher academic success for teens didn't seem to curb device use while driving—texting or emailing while driving was as common among students whose grades mainly were As or Bs as students with mostly Cs, Ds or Fs.
Discuss Good Driving Habits
Perhaps it is a good time for families to discuss the hazards of distracted driving. Let young drivers know the important facts about distracted driving and the significantly increased dangers it creates. It's easy to have a productive discussion by downloading the Family Safe Driving Agreement created by ENDDD.org and sharing it with your family and loved ones.   
As parents, set good examples. Show them you know when to stop multitasking. Turn your cell phone off and tuck it away while you drive, or enable a "Do Not Disturb'' app on your device. 
It could also prove valuable to show your children you, too, are vulnerable to distractions. Ask your young passengers to be your co-pilots and encourage them to give you a heads-up if they feel you may be heading towards a distracted, dangerous moment.
Distracted Driving Legal Help
With countless distracted drivers on the road, everyone needs to use caution and focus while behind the wheel. If you believe you are a victim of a car accident with a distracted driver, the Virginia distracted driving lawyers at Curcio Law know the regulations and effective tools to deal specifically with these incidents. For more information or a free case review, contact us online or call/text 703-836-3366. Also, if you are interested in having Tom, Justin, or Rakin present the ENDDD program to a group, please give us a call as we are very happy to do it.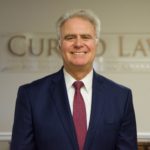 Tom Curcio has devoted his career to representing people seriously injured or killed in car, pedestrian, bicycle, and truck crashes, and by dangerous dogs, unsafe products, and premises. He works tirelessly to obtain the compensation his clients are legally entitled to so they may rebuild their lives with dignity. Tom is the co-author of the book Evidence For The Trial Lawyer, and a much sought-after speaker on personal injury, trial practice, evidence, and professionalism. Contact Tom at tcurcio@curciolaw.com.