Distracted driving incidents have been steadily increasing over the past few years with no signs of slowing down. In fact, they have now surpassed even drunk driving as the leading cause of motor vehicle accidents in the U.S.
The National Highway Traffic Safety Administration (NHTSA) reported that 25% of all car crashes involve distracted driving, most of them caused by cell phone use. Nearly 75% of surveyed drivers confessed to using their phones while driving. In 2017 alone, cell phone use caused over 1,500 accidents in Virginia, and seven were fatal.  
And that was before a global pandemic that shut down the country for the better part of a year. Logic dictates that fewer drivers on the road mean fewer accidents, but the opposite proved true. There was a 24% spike in traffic fatalities in 2020, and experts theorize that emptier roads mean drivers are more likely to relax their concentration, bend the rules, and speed. These trends don't seem to be changing as life opens up again.
What is Distracted Driving?
There are three categories of distracted driving: manual (taking your hands off the wheel to do something), visual (taking your eyes off the road), and cognitive (focusing on something other than driving). While using a cell phone encompasses all three of these and is undoubtedly the most dangerous thing to do, it is not the only form of distracted driving. You could also be eating or drinking, brushing your hair or applying makeup, reading or watching a movie, concentrating on the radio, trying to grab something from the car, or interacting with your passengers. Any action that takes your eyes, hands, or attention away from driving is a distraction.
And the number-one offenders when it comes to distracted driving? Teenagers. While teens are already in more danger than adults simply because they're new to driving and their brains haven't fully formed, they're also the ones most likely to use a cell phone and play around with friends in the car. Teenage drivers only drive at night 20% of the time, but more than half of juvenile traffic deaths happen after dark.
Virginia Cracks Down on a Preventable Problem
Virginia has teamed up with several federal traffic safety programs on awareness campaigns. The state also created local initiatives and passed some new laws to help reduce distracted driving accidents. The most notable is a statewide ban of manual cell phone use while driving –  even just holding the phone – that went into effect on January 1.
Related: ​​You Can't Hold Your Cell Phone While Driving In Virginia. Now It's The Law!
Another significant law focuses on prevention through education. The Driver Education Law, found under § 22.1-205, requires that the Virginia Board of Education provide standardized driver education for all public school students. Criteria for the program include:
Education on driving under the influence, aggressive driving and speeding, distracted driving, motorcycle awareness, organ and tissue donor information, fuel-efficient practices, and how to act during a traffic stop

90-minute course attended by the student driver and their parent to cover parent responsibility, underage driving restrictions, and the dangers of drunk driving

Behind-the-wheel training that only takes place in approved vehicles and on property away from highways; regular drivers who speed through the designated area will be subject to misdemeanor prosecution
Curcio Law Is Committed to Reducing Distracted Driving 
Curcio Law has been working with SADD (Students Against Destructive Decisions) in Virginia for the past two years. SADD was founded in 1981 as Students Against Drunk Driving and focused strictly on that issue. Since then, it has transformed into an all-inclusive organization with thousands of chapters where students help their peers make safe choices. In addition to drunk and distracted driving, it focuses on all forms of harmful behavior, such as overall traffic safety, violence, and substance abuse. SADD believes that empowered young people are the most effective tool for tragedy prevention. 
The Curcio Law Firm is especially passionate about educating kids on distracted driving. In addition to sponsoring the SADD program at Bishop Ireton High School in Alexandria, since 2017, I have given numerous presentations to educate young drivers about the hazards of distracted driving by working with EndDD.org. End Distracted Driving is a nationwide program started by trial lawyer Joel Feldman and his wife Diane in memory of their 21-year-old daughter Casey Feldman killed 12 years ago by a distracted driver. In addition to presenting to high school students throughout Northern Virginia, I have presented frightening statistics, incredible true stories, and tips on how to stay safe behind the wheel to young drivers and their parents at the Alexandria Juvenile and Domestic Relations Court. Teens who have passed their driver's tests receive their new licenses at the end of the presentation.
We still have a long way to go in reducing distracted driving, and you or someone you know may likely interact with a distracted driver at some point. If you are injured, the personal injury lawyers at Curcio Law know the regulations and effective tools to deal specifically with distracted driving incidents. For a free case review, contact us online anytime or call/text 703-836-3366.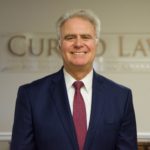 Tom Curcio has devoted his career to representing people seriously injured or killed in car, pedestrian, bicycle, and truck crashes, and by dangerous dogs, unsafe products, and premises. He works tirelessly to obtain the compensation his clients are legally entitled to so they may rebuild their lives with dignity. Tom is the co-author of the book Evidence For The Trial Lawyer, and a much sought-after speaker on personal injury, trial practice, evidence, and professionalism. Contact Tom at tcurcio@curciolaw.com.