Recently, four pedestrians were killed in Washington D.C. within a 36-hour window. More than a tragic coincidence, these victims contribute to a troubling pattern of rising fatality rates among walkers throughout America. The Washington Post reports that pedestrian death rates in the U.S. have seen a marked increase over the past two years, with 2018 leveling off at nearly 6,000 pedestrian fatalities—a 33-year-high, according to the Governors Highway Safety Association (GHSA). In the meantime, GHSA reports that other types of traffic deaths have dropped by double digits as pedestrian deaths rose an unprecedented 27 percent from 2007 to 2016.
While there could be a myriad of reasons for the uptick in needless deaths, distractions—for both pedestrians and vehicle operators—tops the list. In Virginia, distracted driving is a primary offense—which means that an officer may pull a driver over solely for the purpose of issuing a distracted driving ticket. By comparison, wearing a seatbelt is a secondary enforcement law, meaning that an officer can only ticket for the violation if they've already pulled you over for another offense.
Regardless of such varying laws from state to state, there's no denying that drivers need to keep their eyes on the road at all times and pay particular attention to people in the vicinity of their moving vehicle. Regardless of the reason, whenever a vehicle and an individual collide—it's the pedestrian who suffers, as such accidents can cause severe injuries or even death.
"We are crazy distracted," says Melody Geraci, deputy executive director of Chicago's Active Transportation Alliance, during an NPR interview. "After speeding and the failure to yield, distractions are the number three cause [of pedestrian fatalities], particularly by electronic devices."
Unfortunately, my caseload is consistent with the national increase in collisions involving pedestrians. Over the past two years, we have been retained in six cases involving pedestrians struck by motor vehicles. All such cases are tragic. Four involve serious and life-altering injuries, and two causing fatalities. Four of the cases involve drivers clearly not paying attention to their driving, one driver prosecuted by the local prosecutor based on a belief that she was using her cellphone at the time of the collision, and a second involving a driver who admitted under oath in a deposition that she was on the phone when she struck my client. Two of the remaining cases are in the early stages of the investigation, and whether cell phone use is involved is not yet known.  (One case involves a drunk driver who left the roadway and drove onto the sidewalk, where he struck and killed a 36-year-old man on his way to work.)
Each of us can see the extent of distracted driving by simply looking at the incredible number of drivers who are on the phone while driving. Through my involvement in the ENDDD program, I have learned the extent to which drivers are distracted by the use of a cell phone. Studies show that a person talking on a cell phone is 4 times more likely to be involved in a crash, similar to a person driving with a .08 blood alcohol level.
Based on the statistics, and what I have learned firsthand through my cases, I have made a personal decision to not use my cell phone while driving, or looking at my phone while walking.
Distracted walking is also a safety issue, as it is becoming all too common to see people using their cell phones while crossing a street, seemingly oblivious to the potential dangers around them. To protect yourself and those you love, make sure that you and they make eye contact with a driver before crossing a street, and do not use your cellphone while driving or crossing a street.
If you or a family member have been involved in a pedestrian accident and have questions concerning your rights, please call us at 703-836-3366, email tcurcio@curciolaw.com, or visit us at curciolaw.com to arrange a free consultation.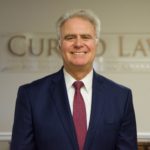 Tom Curcio has devoted his career to representing people seriously injured or killed in car, pedestrian, bicycle, and truck crashes, and by dangerous dogs, unsafe products, and premises. He works tirelessly to obtain the compensation his clients are legally entitled to so they may rebuild their lives with dignity. Tom is the co-author of the book Evidence For The Trial Lawyer, and a much sought-after speaker on personal injury, trial practice, evidence, and professionalism. Contact Tom at tcurcio@curciolaw.com.