Each year, Virginia pedestrian accidents cause serious and fatal injuries. The allure of walking in certain cities and districts, such as Old Town in Alexandria, Virginia or Clarendon in Arlington, Virginia, brings tourists and locals to the area year-round. Sidewalks are filled with pedestrians out shopping, enjoying food at restaurants, and exploring venues and attractions, but busy areas that draw crowds on foot have become increasingly dangerous nationwide.
Most pedestrian accidents in Virginia are preventable; speeding, distracted driving, failure to obey traffic signals and signs, and driving under the influence of drugs or alcohol are some of the most common causes of pedestrian accidents. Regardless of why it happened, these accidents frequently cause catastrophic injuries to pedestrians. After all, pedestrians in a motor vehicle crash are at the mercy of the full weight of the vehicle barreling down on them. 
The severity of pedestrian accident injuries can have a devastating impact on victims and their families. Medical costs, lost wages, permanent disabilities, multiple surgeries, emotional trauma, and other damages and losses can be personally and financially crippling. After seeking medical attention, hiring a Virginia pedestrian accident attorney is the first step to recovery.
Benefits of Hiring a Virginia Pedestrian Accident Attorney
There were 169 pedestrian accident fatalities in Virginia in 2022, and Northern Virginia pedestrian injuries accounted for 36 percent of all injuries across the state. Unfortunately, pedestrian deaths have been increasing for more than a decade.
When you're the victim of a pedestrian accident in Virginia, your best chance to recover proper compensation is by speaking with a personal injury attorney with experience in these cases. Why? Personal injury law is complicated. Whether you or a loved one has suffered minor or catastrophic injuries, specific skills are needed to get the results you're entitled to from a pedestrian accident claim.
The following are some of the most important benefits of hiring a Virginia pedestrian accident attorney:
Alleviate the Burden of a Claim
One of the main benefits of hiring an attorney for your pedestrian accident claim is that they'll alleviate the burden and stress of dealing with insurance companies and gathering what's needed to make a claim. The right lawyer can help you file an insurance claim, prepare to take your claim or pedestrian accident lawsuit to court, and give you the advice you need to make the best decision for you.
When you, your spouse, your child, your friend or any loved one is injured in a pedestrian accident, the last thing the injured need on their plate is the stress of the legal aspect of the case. Hiring a Virginia pedestrian accident attorney lets you focus on coping with and managing the impact of your injuries. The Curcio Law attorneys are dedicated to making the insurance claims and legal process as easy as possible for our clients as they recover. From our experience, alleviating the legal burden of the bodily injury claim helps our clients focus on their physical recovery and leads to better results in their physical health. 
Build a Strong Case
Insurance companies and the defendant's lawyer often argue that the pedestrian is partly to blame. Unfortunately, Virginia and Washington D.C. are both contributory negligence states. Contributory negligence incentivizes insurance companies and defense lawyers to argue that the pedestrian contributed to the collision because even if the pedestrian is only 1% at-fault, the pedestrian cannot recover any compensation for their injuries. Some of their arguments include that the pedestrian was on their phone, crossed outside of the crosswalk, didn't follow traffic signals, or even that they didn't make themselves visible to drivers. It's crucial to build a strong pedestrian accident case that clearly and thoroughly demonstrates the driver was the only person at fault and, therefore, liable for what happened. 
Our pedestrian accident attorneys have the skills and resources to gather evidence and investigate what happened so your claim holds up at the negotiating table and in the courtroom. We know what's needed to prove the injured pedestrian didn't contribute to the accident and how to argue for proper compensation for the victim's damages.
Detailing how broken bones, fractures, traumatic brain injuries, ligament injuries, infections, and other injuries affect victims is difficult without legal help. To get the best results, we hire experts to back up the impact and severity of pedestrian injuries.
Handle Communications with Insurance Companies and Lawyers
Insurance companies will always pay as little as possible; at the end of the day they are a business. Insurance companies will not thoroughly account for all of the damages suffered by the pedestrian, especially damages that the pedestrian is reasonably expected to suffer in the future. Not only can a lawyer alleviate the burden of communications with insurance companies and other lawyers, but they also know how to best represent your interests during these communications.
A pedestrian accident attorney is the first step to recovery because they negotiate on your behalf and fight for your rights, ensuring you receive adequate compensation for your injury.
Determine the True Value of Your Claim
Several factors impact the value of a personal injury, many of which the average person wouldn't consider or know how to quantify. At Curcio Law, we use our extensive experience with these cases and consult with medical experts to determine the true value of a pedestrian injury claim. We consider more than just the immediate medical needs and associated costs of someone injured. We look at future medical expenses, including assistive devices and surgeries, lost earning capacity, emotional suffering, and more, and make sure those elements are factored into the valuation of the pedestrian accident case. 
In addition to determining the value of personal injury claims of this kind, our attorneys can help determine the level of compensation to seek in wrongful death cases. Sadly, many pedestrian accidents are fatal, and the surviving family is left to mourn the sudden death of a loved one and deal with the financial ramifications of the loss of an income. They may also be left with expensive medical bills if their loved one was treated in the hospital before their death.
Trial Experience
Many personal injury lawsuits are settled out of court, so negotiations are an essential part of pedestrian injury claims. However, hiring a pedestrian accident attorney willing and prepared to go to trial if fair compensation isn't offered or negotiated is important – but not all lawyers do this or have the trial experience necessary to win.
The Virginia lawyers at Curcio Law have extensive trial experience. We're not afraid to fight for what you're entitled to in the courtroom if an insurance company won't agree to fairly compensate you for your pedestrian injuries.
Determined to Win
Pedestrian accident attorneys like us at Curcio Law, also make sure that our services are available to anyone who is injured. We do not bill for our time or invoice clients for the amount of hours we have worked on their cases. We are contingency lawyers and do not recover a fee until our clients have won their cases and secured compensation.
Personal injury lawyers shouldn't charge a fee unless you win your case. If they have an upfront payment, go elsewhere. Since your attorney doesn't get paid unless you do, they'll do everything possible to get a successful result from your pedestrian accident claim. They invest in your case without the guarantee they'll receive a fee for their services. Our Virginia law firm has the resources to build a strong case that best positions you to win your case.
Contact Our Virginia Pedestrian Accident Attorneys
Pedestrian accidents can be devastating; injuries often require months or even years to recover from, and there are lifelong health effects in many cases. As a result, pedestrian accident injuries may impact all areas of the victim's life, and families are left struggling with a new, stressful reality.
Hiring a lawyer when you've been hurt is the first step to recovery. The Alexandria pedestrian accident attorneys at Curcio Law will protect your rights and fight for what you're entitled to. We care about our clients and have a proven track record of success.
Don't delay. If you've been injured in a Virginia pedestrian accident, contact us online or call or text 703-836-3366 for a free case consultation.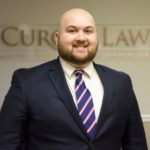 Rakin Hamad joined Curcio Law as an associate in August 2018 after graduating from George Mason Law School. During law school, Rakin demonstrated his dedication to client advocacy and was a member of the trial advocacy association, the pro bono society, and the George Mason Law Review. His approach to the law mirrors the firm's philosophy of treating each client with commitment, compassion and character. Contact Rakin at rhamad@curciolaw.com.