You've probably seen commercials urging people who have suffered an injury due to a product to contact an attorney, but maybe not thought much about it. What if you were one of those injured people? What if you purchased something, and you or someone you loved was injured or even killed by a defect in that product?
The truth is that product liability lawsuits serve an essential purpose beyond just compensating a consumer injured or killed by a faulty part or defective product. Such lawsuits force manufacturers into improving the safety of their products with better design, using better materials, adding or improving safety and quality control inspections, and providing or improving instructions and warnings that accompany the product's use. All of which make the products we all buy and use safer and save lives in the process. 
Product liability is a set of laws pertaining to a seller or manufacturer of a product being held responsible for a defective product, causing injury to a consumer. At the heart of this socially beneficial body of law is the legal principle that a product is designed, manufactured, and labeled to perform as represented and marketed and is reasonably safe when used for its intended purposes. When a product poses an unreasonable risk of injury when used as intended, it is defective. If an injury results, the consumer has the ability to bring a successful product liability suit. 
As such, product liability lawsuits serve as protection for the consumer by increasing the safety of a product, making society safer overall. There are several examples of these types of cases. Some of which went through years of litigation before succeeding on behalf of the consumer, with some still ongoing.
Product Liability Cases Through the Years
In 1965, Ralph Nader published the now-famous Unsafe at Any Speed, a book that investigated the Chevrolet Corsair for its tendency to roll over due to a split rear axle. GM tried to discredit Nader to get themselves out of the spotlight. The incident led to the 1966 passages of the National Traffic and Motor Safety Vehicle Act and the Highway Safety Act. The creation of the National Highway Traffic Safety Administration (NHTSA) followed soon after.
The NHTSA's responsibilities include reducing the loss of life from motor vehicle crashes by setting and enforcing safety standards. 
Another vehicle, the Ford Bronco II of 1983, also had rollover problems, causing serious injury and death in alarming numbers. Over just four years, one study found that the Bronco II's rear-wheel version caused 3.78 deaths for every 10,000 registered vehicles or about 70 people annually. A stunning 88 percent of those deaths occurred in rollover accidents. 
Ford's engineers proposed widening the truck by two inches to increase its stability, but management declined, citing production delays.
Through numerous lawsuits brought by those injured and the families of those killed, represented by knowledgeable lawyers working with engineering experts, it became apparent that the rollovers were due to a high center of gravity combined with a narrow track width and a short wheelbase. You can see the safety benefits of such suits by just looking at the evolution of Sport Utility Vehicles over the years, with each generation having a lower center of gravity and or a wider track and longer wheelbase. 
In addition to handling claims related to Bronco rollovers, we have also been involved in cases involving rollovers of CJ-5 and CJ-7 Jeeps.  
Another well-known case was the GM side saddle gas tank defect, which was the worst auto crash fire defect in the U.S. Department of Transportation's history. The original design on the "C/K" line of pickup trucks was intended to market a huge fuel capacity of 40 gallons. A tank that big would not fit anywhere inside the vehicle's metal frame, so GM put two 20-gallon tanks on each side of the truck, outside its protective frame. 
Having 40 gallons of fuel essentially hanging on the sides of the truck resulted in horrific, fiery explosions and a staggering number of deaths (600 people burned to death after accidents). 
An NHTSA investigation found a high level of risk in the trucks, but GM was able to settle in the 1994 suit by paying $51.4 million for unrelated "safety programs" without having to recall the trucks. Several subsequent deals settled in court kept the American public in the dark about the dangers of the trucks and GM's knowledge of the threat and refusal to do much about it.
The lawsuits eventually resulted in the Automotive Safety Research Institute's formation, which developed a retrofitted fuel tank that successfully passed an NHTSA safety test. But the number of people who died while GM successfully resisted taking responsibility for its defects is alarming and another example of why product liability law is so essential to consumer safety.
Another group of product liability lawsuits that led to more consumer protections involved the tread separation problems of Firestone radial Wilderness ATX tires on Ford Explorers. The dangerous tread separation, which possibly led to rollovers, led to the Transportation Reporting Enhancement, Accountability and Documentation (TREAD) Act. It was signed into law in 2000 by President Clinton. Its purpose was to improve consumer protection, particularly by requiring auto manufacturers to report any defects and put new vehicles through a federal rollover test.
Current Day Product Liability Cases
According to the NHTSA, we are currently in the throes of the "largest and most complex safety recall in U.S. history," the case of the Takata airbags.
Vehicles made by 19 separate auto manufacturers from 2002-2015 have these airbags installed, which explode upon impact at speed above a certain amount. The defect relates to the airbags, including a metal cartridge loaded with propellant, causing metal shards to explode from within the inflator. 
There are currently 17 recorded deaths and more than 200 injuries caused by Takata airbags in the U.S. alone, and more worldwide, with the most recent death occurring in August 2020. There have been several rounds of recalls for a total of 63 million airbags – a feature that is designed to improve safety, not decrease it.
The Takata scandal began in 2014 when the New York Times published a report stating the company had known about the defects for years. Over the past several years, billions of dollars in penalties have been levied against Takata.
It wasn't until 2017 that Takata admitted it had deceived automakers about how safe their airbags were. It filed for bankruptcy shortly after. 
Various cases have granted financial compensation to both automakers and victims. In February 2018, a Delaware judge ordered Takata to create a trust fund for victims of several million dollars. Some automakers voluntarily contributed instead of receiving compensation for themselves. 
If not for product liability law, the victims of all these cases would have been left to suffer without recourse.
Product Liability In Other Areas
Motor vehicles aren't the only mode of transportation subject to product liability lawsuits – bicycles are vehicles, too, and manufacturers have been taken to court to answer for dangerous flaws in their products.
According to the Centers for Disease Control and Prevention (CDC), bicyclists have a higher risk of crash-related injuries and deaths than occupants in motor vehicles.  
Typically these injuries are caused by simple accidents, but defects with the bicycle can also cause them. Pedals and seats can malfunction or detach; brakes can fail. Many of these can be attributed to careless design flaws, and it may be wise to contact a bicycle accident attorney if you've been injured. Product liability law holds these manufacturers accountable for the same reasons it does automakers – for knowingly selling or failing to recall a faulty product. We have handled several bicycle product liability cases involving serious personal injuries caused by defects in components such as front forks and pedals. 
Another area of product liability cases we are currently handing involves the X-Lite guardrail end manufactured by Lindsay Transportation. The X-Lite is a guardrail end designed to telescope upon impact and thereby absorb the energy of a striking vehicle and bring it to a controlled stop. Unfortunately, as has happened in several states, including here in Virginia, many times when the X-Lite is struck, it fails to telescope and instead pierces the vehicle causing horrific injuries or death to vehicle occupants. Fortunately, many states, including Virginia, are no longer installing X-Lites on their highways, while others are undertaking the significant expense of removing them.   
If you or someone you know has been injured due to a faulty product of any kind, Curcio Law has the experience and resources to obtain the compensation you deserve. Give us a call or text us at 703-836-3366, email info@curciolaw.com, or visit www.curciolaw.com.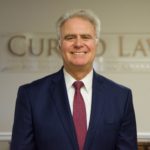 Tom Curcio has devoted his career to representing people seriously injured or killed in car, pedestrian, bicycle, and truck crashes, and by dangerous dogs, unsafe products, and premises. He works tirelessly to obtain the compensation his clients are legally entitled to so they may rebuild their lives with dignity. Tom is the co-author of the book Evidence For The Trial Lawyer, and a much sought-after speaker on personal injury, trial practice, evidence, and professionalism. Contact Tom at tcurcio@curciolaw.com.