Pedestrian deaths are on the rise, and a new episode of the podcast Freakonomics discusses why the U.S. stands out from other countries regarding pedestrian fatalities. In "Why is the U.S. So Good at Killing Pedestrians?" the podcast host explores why drivers are rarely punished criminally for killing people with cars, even if they were responsible for the crash. According to Governors Highway Safety Association data, Virginia saw the second-highest increase in pedestrian deaths in the country last year. Fairfax saw the most significant increase in fatalities — only a few miles from Alexandria. These Virginia pedestrian accidents are preventable, but hundreds of people die needlessly in Virginia yearly. Deaths were on the rise even when driving was down due to the pandemic.
Why Pedestrian Deaths Happen
The podcast discusses why pedestrian deaths are so often fatal. While walkers and bicyclists make up only 2% of crash-related injuries, they account for 17% of traffic deaths. If you're involved in a vehicle crash, you have a seatbelt, airbags, and a car designed to keep you safe during a collision. Pedestrians lack these defenses and have no protection when a vehicle is hurtling their way. They are frequently thrown several feet due to the sheer force of a crash. If a pedestrian is fortunate enough to survive a car crash, they will likely face serious health complications. Common injuries include broken bones, paralysis, and traumatic brain injury.
Freakonomics also explores the role that speed plays in a crash. Research has shown that a pedestrian's survival chance depends on how fast the vehicle that hits them is traveling. A study from the AAA Foundation found that the fatality rate for a crash at 23 miles per hour is only 10%. But at 58 miles per hour, the rate skyrockets to 90%. Even a lower speed limit doesn't guarantee that pedestrians will be safer. A Virginia Department of Motor Vehicles report found that a staggering 96% of drivers travel over the speed limit. Crashes are prevalent on busy roads with multiple businesses and restaurants where drivers frequently pull in and out. When you add in speeding, it's no surprise that pedestrians are at risk.
When Distraction Becomes Dangerous
In the podcast episode, the host interviews experts on the factors contributing to pedestrian deaths. One of the most prevalent causes of pedestrian accidents is distraction — both on the part of drivers and pedestrians. A walker may not realize that texting, talking on the phone, and listening to music make it harder to detect potential threats. Drivers busy fiddling with a GPS, using a vehicle dashboard, or chatting with passengers may not see a pedestrian until it's too late. Many pedestrian deaths happen in intersections with traffic lights. A driver may look away from the road for a quick task and not check for walkers or cyclists when the light turns green.
One of the experts featured on the podcast shared the problem of inattentional blindness, which is a phenomenon where something happens and you don't see it. Using a cell phone while driving doubles the risk of inattentional blindness. When you're busy multitasking, your brain may not process what's happening before you, even if your eyes see it. This can quickly become dangerous for pedestrians on the road.
How To Reduce Pedestrian Deaths
Many of the solutions discussed in the Freakonomics episode are large-scale and systemic, like revamping streets to allow cars and pedestrians to share the road and studying speed limit laws. Unfortunately, a bill introduced this year in the Virginia Legislature to increase spending on traffic safety died in a subcommittee. This raises the question of how to move forward from here. Changing existing infrastructure would likely cost millions of dollars and take years. Where does that leave pedestrians?
When you're on the road, you can take precautions to help keep yourself safe from cars. Avoiding distracted walking and cycling and only using sidewalks and marked crosswalks are two ways to reduce the chance of a tragedy. Unfortunately, pedestrians who do everything right are still at risk for injury and death. The size of the average passenger vehicle makes it difficult for someone to escape unharmed.  
If you or a loved one is struck by a vehicle after obtaining the initial needed medical care, you should consult a Virginia pedestrian accident attorney. A lawyer experienced in representing those injured when struck by a motor vehicle can help determine the facts of the case and the best way to move forward. Know that in a Virginia pedestrian accident lawsuit, you can recover damages for losses like lost wages, medical expenses, physical pain, and mental suffering. If you have lost a loved one in a pedestrian accident, you may also have the right to file a wrongful death lawsuit to be compensated for your emotional pain and the loss of financial support provided by the family member killed. Time limits control your ability to be compensated, so obtaining competent legal advice quickly is essential. We at Curcio Law have handled many pedestrian accidents and wrongful death claims and lawsuits. Please contact us online for a free case consultation, or call or text us at 703-836-3366, as we are here to help in your time of need.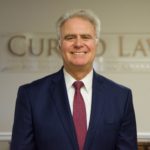 Tom Curcio has devoted his career to representing people seriously injured or killed in car, pedestrian, bicycle, and truck crashes, and by dangerous dogs, unsafe products, and premises. He works tirelessly to obtain the compensation his clients are legally entitled to so they may rebuild their lives with dignity. Tom is the co-author of the book Evidence For The Trial Lawyer, and a much sought-after speaker on personal injury, trial practice, evidence, and professionalism. Contact Tom at tcurcio@curciolaw.com.