Leaving the house for only essential errands is the new norm for millions of Americans during the COVID-19 coronavirus outbreak. And while a trip to the grocery store, or picking up food from a favorite restaurant is allowed, many people would rather not go out. Instead, they have turned to delivery apps to have everything from groceries to lunch, and dinner dropped off at their front door.
Services like UberEats, Grubhub, DoorDash, Instacart, Shipt, and a slew of other delivery services are in high demand for customers who may be elderly, ill, or even those who just prefer to maintain total social distancing out of fear of contracting the COVID-19 coronavirus.
Delivery App Usage Increasing
There have been a record number of downloads for grocery delivery service apps in March. According to data from Apptopia, an independent research firm that analyzes the app marketplace, Instacart, Walmart Grocery and Shipt see their daily app downloads surge by 218 percent, 160 percent, and 124 percent, respectively, compared to February levels. 
In a company statement in March, Instacart said, "Today, we have more shoppers on the Instacart platform than ever before. Given the continued customer demand we expect over the coming months, we'll be bringing on an additional 300,000 full-service shoppers to support cities nationwide." 
Food-delivery service apps such as UberEats, Grubhub, and Postmates have also seen an increase in sales. According to a report in technology web publication, The Information, UberEats sales surged by around 10 percent in mid-March from the week before, and it saw a 30 percent increase in people signing up to deliver food. This is probably due to the passenger ride-hailing side of the business slowing down.
Even before the COVID-19 outbreak, food delivery apps were gaining popularity. According to Upserve, a restaurant management and POS solution company, 60 percent of U.S. consumers order delivery or takeout once a week, 31 percent say they use third-party delivery services at least twice a week, and 63 percent of consumers agree that it is more convenient to get delivery than dine out with a family. It is projected that orders placed through smartphone and mobile apps will become a $38 billion industry. 
What Does a Growing Delivery Industry Mean for Our Roadways?
The food and product delivery apps are trying to make it safer for people during the COVID-19 crisis, but are the roads safe with so many people delivering food? And the bigger question is, are the delivery drivers insured? 
Vehicle insurance requirements vary based on the ridesharing service being provided. In Virginia, a ridesharing transportation service carrying passengers (Uber or Lyft), otherwise known as transportation network company (TNC), has different insurance limits from drivers who are transporting food and other products. Virginia came up with insurance regulations for TNCs. However, companies such as UberEats, Grubhub, and Instacart were not considered as TNCs, so new auto insurance guidelines had to be created, which went into effect on January 1, 2018. 
Before the new insurance guidelines, intrastate motor carriers transporting property were required to maintain $750,000 in liability coverage in Virginia. These high liability coverage limits didn't seem to fit digital grocery and food delivery drivers. So, modifications were made to Virginia's Motor Carrier Property statutes. Specifically, changes were made to the definition of household goods, so digital platform delivery companies would not be regulated as strictly as other household goods carriers.
On-Demand Delivery Driver Insurance Requirements 
Virginia Code § 46.2-2143.1 requires different levels of insurance coverage depending upon the type of vehicle transporting the goods and the status of the vehicle during the transportation cycle of the products.
To summarize, 
When a food or product delivery driver has the service app on but is awaiting a delivery request, the required liability coverage for vehicles that weigh less than 7,500 lbs. is: $25,000 per person, $50,000 per incident and $20,000 for property damage. 

From the time the rideshare food delivery driver accepts the request to transport food or other products, and the vehicle is in route to pick up the goods, until the time the property has been removed from the vehicle and delivered to its final destination, the liability coverage is $100,000 per person, $300,000 per incident and $50,000 for property damage.
It's also important to note that personal auto policies for all rideshare drivers will not cover an accident occurring during the time period the driver is operating within the app unless their policy specifically provides for coverage. This means on-demand delivery drivers need to have some additional insurance. Some rideshare companies such as UberEats offer their drivers supplemental insurance while the app is on, but others do not and it's the responsibility of the driver.
With the rising popularity of on-demand food and product delivery services, everyone including rideshare drivers and other drivers should be educated about the various rideshare insurance requirements. Accidents can still happen even during these times of stay-at-home orders and social distancing. 
If you or a loved one have been injured in an accident involving a food delivery service, call us at 703-836-3366, email rhamad@curciolaw.com, or visit us at curciolaw.com and we can help you navigate your potential legal options.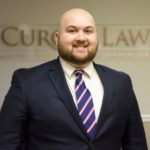 Rakin Hamad joined Curcio Law as an associate in August 2018 after graduating from George Mason Law School. During law school, Rakin demonstrated his dedication to client advocacy and was a member of the trial advocacy association, the pro bono society, and the George Mason Law Review. His approach to the law mirrors the firm's philosophy of treating each client with commitment, compassion and character. Contact Rakin at rhamad@curciolaw.com.