It only takes the press of a button on your smartphone to order an Uber, Lyft, or another ridesharing service, but before you grab that next ride, take a few minutes to educate yourself in case an accident occurs.
Ridesharing is a rapidly growing industry. Uber reports that they have 91 million monthly active platform consumers, 3.9 million drivers, and 14 million trips completed each day. Lyft is not far behind in their numbers. While these services were designed to offer customers a safe and reliable method of transportation, with so many ridesharing drivers and passengers on the road, accidents are bound to happen. 
According to TechCrunch, Uber's recent safety report shows a low fatal accident rate compared to the national average, but it still doesn't provide an accurate accounting of accidents. As a passenger of an Uber, Lyft, or any rideshare service, what happens after an accident and who is responsible if you are injured are crucial points to consider.
Many states are regulating rideshares as a way to keep passengers and drivers safe. In Virginia, rideshares, which are referred to as transportation network companies (TNCs), have certain insurance requirements and other regulations that need to be followed to operate in the state. Making yourself familiar with the regulations will help you understand your rights if involved in any kind of accident with an Uber, Lyft, or another rideshare.
So, what do you do if you are involved in an accident with an Uber or Lyft?
Determine who is at fault.

If you are a

rideshare passenger

and the

rideshare driver is at fault,

then you are covered up to $1 million for bodily injuries from the rideshare's insurer.

If you are a

rideshare passenger

and

another driver is at fault

for a collision with your rideshare, then the at-fault driver's insurance is responsible, and the rideshare insurance will provide underinsured motorist coverage up to $1 million.

If a

rideshare driver causes a collision with you while you are driving your own car

, then the rideshare driver is insured for $50,000 per person and $100,000 per incident for death and bodily injury and at least $25,000 for property damage. This applies from the moment the rideshare driver logs into the app. If the rideshare driver has accepted a ride/has a passenger in their car, the driver is insured up to $1 million.
While it's somewhat comforting to know that rideshares are insured, you should also consider your own medical payments coverage (Medpay). Medpay covers medical expenses for injuries you sustain in an accident, regardless of fault. Medpay will reimburse their insured the amount the insured and their health insurance have paid. 
If you have health insurance, medpay may seem unnecessary, but it actually will help cover co-pays and deductibles for visiting hospitals or using emergency services. Medpay coverage is optional and is not offered in every state, but it is highly recommended. It definitely can provide great benefits to you in the case of a rideshare accident.
So, the next time you tap your smartphone to request an Uber, Lyft, or another rideshare service, remember that accidents do occur. Be smart, be safe, and know what to do if you ever find yourself in this unfortunate situation. 
If you or a loved one have been injured in an accident involving an Uber, Lyft, or another rideshare service, call us at 703-836-3366, email rhamad@curciolaw.com, or visit us at curciolaw.com and we can help you navigate your potential legal options.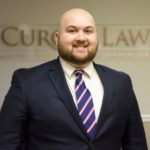 Rakin Hamad joined Curcio Law as an associate in August 2018 after graduating from George Mason Law School. During law school, Rakin demonstrated his dedication to client advocacy and was a member of the trial advocacy association, the pro bono society, and the George Mason Law Review. His approach to the law mirrors the firm's philosophy of treating each client with commitment, compassion and character. Contact Rakin at rhamad@curciolaw.com.