When you're sick, injured, or elderly, there are often medical appointments and treatments to attend. Dialysis, physical therapy, and even regular doctor's appointments require getting to and from your home, nursing home, medical facility, or another residence.
But for many individuals with these needs, driving themselves or having a loved one transport them places isn't possible. In these situations, people heavily rely on services provided by non-emergency medical transportation (NEMT) companies. They not only drive passengers to and from their destination but are responsible for safely and properly loading and securing them and any medical equipment or assistive devices needed for the trip.
Drivers and other employees of non-emergency medical transportation companies often need to operate a chair lift for those in wheelchairs. Passengers must be secured for the drive because even just starting and stopping could cause someone to be jostled, fall over, or crash into the vehicle's interior. When being transported, the injuries from failing to ensure a passenger's safety can be severe because they're already frail, sick, or injured. 
Unfortunately, as the population ages, more and more Americans suffer personal injuries in non-emergency medical transportation accidents. Passengers in these vehicles are highly vulnerable, and a NEMT injury can lead to short- and long-term health complications. When this happens, consulting with an experienced medical transportation attorney can help victims be adequately compensated for their injuries.
Types and Causes of NEMT Injuries
Medicaid and other health insurance plans often cover non-emergency medical transportation services in Virginia. The vehicles used to transport passengers vary depending on their needs, such as wheelchair-equipped vans, stretcher vans, and non-emergency ambulances. If specialized vehicles and personal support aren't needed, volunteer drivers, bus tickets, and gas reimbursement are provided for those with coverage.
When using a non-emergency medical transportation service, there are everyday risks on the road that can lead to passenger injuries. However, there are ways in which an employee and/or company could be negligent.
There are many types of NEMT injuries, and some can be catastrophic:
Broken bones and fractures

Traumatic brain injuries (TBIs)

Lacerations

Organ damage

Internal bleeding
Non-emergency medical transportation accidents are often traumatic for the victim too. The emotional, psychological, and physical harm from injuries suffered while being loaded into or unloaded from a vehicle or during the drive can be extensive.
Some of the most common causes of non-emergency medical transportation injuries include:
Inadequate staff training

Failing to load and unload passengers safely

Unsafe driving (speeding, taking sharp turns, breaking hard)

Unsafe or poorly maintained equipment or vehicle

Auto accidents

Failing to get passengers to safety during drop off

Lack of proper equipment

Failing to secure passengers or medical equipment properly
What would typically be a minor injury for a healthy person can cause serious health struggles for those who are sick, injured, or elderly. Given the risks of being hurt, everyone who uses a non-emergency medical transportation service should know they have rights when an accident occurs, regardless of the cause.
Liability in Non-Emergency Medical Transportation Accidents
In Virginia, while there isn't a specific law that addresses the liability of NEMTs, they have a duty of care to transport passengers safely. When they fail to provide this care, the driver, other employees, and/or company may be held liable for various damages, whether through an insurance claim or a personal injury lawsuit. Attorneys must prove that the breach of care caused the non-emergency medical transportation injury and that the harm suffered caused damages.
There are many situations where employees and/or the medical transportation company could be found liable for injuries. Failure to comply with safety regulations or to secure passengers and equipment, dangerous driving that causes a car accident, and drivers that aren't licensed or insured, or have a history of work incidents, are examples of negligence. Not properly training employees on loading and unloading passengers and assistive devices, or on pick up and drop off procedures, are some ways a company could be liable.
Non-emergency medical transportation lawsuits are complex. They involve several factors and a deep understanding of the applicable laws and policies. NEMT companies and employees may be held liable in Virginia if they fail to provide what's considered reasonable care and put the passenger at an increased risk of injury.
The type of injury, how the accident occurred, what contributed or led up to the accident, who was involved, and other considerations affect the validity of a medical transportation claim. An in-depth investigation by an experienced legal team can help ensure victims are adequately compensated while holding the negligent parties accountable.
Non-Emergency Medical Transportation Regulations
The Virginia Department of Medical Assistance Services (DMAS) must meet regulations at the state and federal levels. They're mandated to provide transportation to and from medical providers for covered services. 
Given the importance and role of DMAS, they have an extensive list of requirements for fee-for-service non-emergency medical transportation companies that address drivers, attendants, and the vehicles used. For example, Virginia regulations require all vehicles to be licensed to provide these essential services, and drivers must be licensed and insured.
How a Medical Transportation Attorney Can Help
People using non-emergency medical transportation services in Virginia have a right to be safely assisted from pick up to drop off. But when an employee or company's negligence causes an accident, they should be held responsible for passenger injuries. Often, these injuries result in further complications among vulnerable people who already require medical treatment and care.
The attorneys at Curcio Law perform thorough investigations for cases involving NEMT injuries, which typically include reviewing medical and police reports, consulting with experts, and interviewing witnesses. We consider current, future, and ongoing medical treatment and care needed and determine whether a driver or company was negligent and how much a case may be worth.
Curcio Law's experience with medical transportation lawsuits in Virginia is founded on a deep understanding of the applicable state and federal laws and safety regulations. We treat cases as if they'll go to court, ensuring the strongest claim possible for victims of NEMT accidents. Compensation through a medical transportation lawsuit may cover pain and suffering, medical bills, lost wages, and emotional trauma.
If you or someone you love suffered a non-emergency medical transportation injury, contact us online or text or call 703-836-3366 to schedule a free consultation. We'll assess your case and walk you through the legal process so that you can focus on recovery.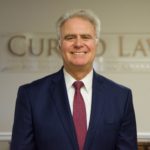 Tom Curcio has devoted his career to representing people seriously injured or killed in car, pedestrian, bicycle, and truck crashes, and by dangerous dogs, unsafe products, and premises. He works tirelessly to obtain the compensation his clients are legally entitled to so they may rebuild their lives with dignity. Tom is the co-author of the book Evidence For The Trial Lawyer, and a much sought-after speaker on personal injury, trial practice, evidence, and professionalism. Contact Tom at tcurcio@curciolaw.com.