In my last blog, I discussed who would potentially be at fault in a motor vehicle collision involving a truck. Another difference between trucking collisions and passenger vehicle collisions is the insurance requirements. In Virginia, pursuant to Virginia Code § 46.2-472, every vehicle that has auto insurance must have bodily injury coverage of at least $25,000 per person and $50,000 per occurrence.
 (View our video: Auto Insurance Coverage – Explained!)
Due to the heightened danger of trucks detailed in my last blog, trucks are subject to heightened regulations. The trucking industry has rules and regulations at both the state and federal levels, and these regulations can determine how much coverage is available in a collision involving a truck. Insurance rates are set according to the truck's gross vehicle weight and the type of activity the truck is involved in. 

If a truck is operating in intrastate commerce in Virginia, Virginia Code § 46.2-2143.1 states the minimum coverage required by trucks as follows:
$300,000 for trucks with a gross vehicle weight in excess of 7,500 pounds, but less than 10,000 pounds

$750,000 for trucks with a gross vehicle weight in excess of 10,000 pounds
If a truck crosses state lines and is involved in interstate commerce, then the Federal Motor Carrier Safety Administration regulates the minimum insurance requirements of these trucks and requires the following:
$750,000 for trucks transporting nonhazardous property with a gross vehicle weight rating in excess of 10,0001 pounds

$5,000,000 for trucks transporting hazardous substances (as defined in

49 CFR 171.8

) with a gross vehicle weight rating in excess of 10,0001 pounds
In motor vehicle collisions involving trucks, state or federal law will require the truck to have a certain amount of insurance coverage due to the types of collisions typically causing more severe injuries than passenger vehicle collisions. Due to the increased insurance limits and the increased damages, you will want to consult an experienced trucking accident attorney, so you don't take any chances handling a trucking case on your own. 
If you've been involved in a trucking accident, Curcio Law has nearly 40 years of experience in personal injury cases, including trucking accidents. We treat each client as our most important client and stand behind our firm's reputation for commitment, compassion, and character throughout Virginia and Washington D.C. Call or text us today at 703-836-3366 or contact us here for a free consultation.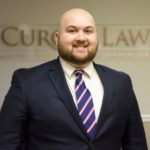 Rakin Hamad joined Curcio Law as an associate in August 2018 after graduating from George Mason Law School. During law school, Rakin demonstrated his dedication to client advocacy and was a member of the trial advocacy association, the pro bono society, and the George Mason Law Review. His approach to the law mirrors the firm's philosophy of treating each client with commitment, compassion and character. Contact Rakin at rhamad@curciolaw.com.