Implementing Positive Train Control (PTC) is like mandating a single gaming system across the United States. Currently, most railroads have versions of PTC systems in place from Communications Based Train Control (CBTC), Advanced Civil Speed Enforcement System (ACSES), to the Interoperable Electronic Train Management System (I-ETMS). The issue at hand with all of these safety installments is regulation and communication. It's like telling a Playstation to communicate with an X-Box. Before the Chatsworth accident of 2008, these safety systems which were mandatory, were not enforced, nor were they always in use if already installed. After the tragedy in 2008, Congress reacted by mandating and enforcing a national train control system, interoperable across all rails.
PTC has an enormous price tag, with speculation of initial overall costs running between 10 and 20 billion dollars (this does not include upkeep every year after installation). Many of the costs concern the fact that PTC is a technology that will be overlaid current technology, so parts must be customized for every rail's specific hardware. It also involves major software development and reform, which means new licenses and updates every year. Furthermore, as a government mandated reform, it is virtually unfunded, with the government appropriating 50 million towards this endeavor.
Some cost and time implementation issues already arising include:
The signal systems involve almost every aspect of the operating railroad system. The older the existing technology, the more difficult and costly it is to implement.

Areas that do not currently have signal systems will require new infrastructure to adequately support the demands of PTC. This is seeing delays due to environmental and other constraints.

Once the technology is installed, testing must take place which must be coordinated among stakeholders and the Federal Railroad Administration (FRA). These will cause delays across the board and may result in a drop of revenue and funding.

The radio frequency spectrum required for PTC is in high demand and limited. The necessary antenna requires FCC approval, which may cause delays.

As the system is new technology based on existing technology, there are few equipment vendors that supply PTC components. This drives up cost from the non-competitive environment.
The current PTC technology has improved since its infancy, involving more than just wayside signals to ensure full coverage. The picture, courtesy of Metrolink shows how current PTC technology works together and communicates. With so many moving parts, and many of them needing to be integrated into current technology, PTC implementation is a daunting task.
Next time, legislation and funding of PTC technology.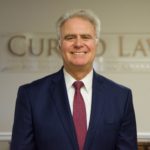 Tom Curcio has devoted his career to representing people seriously injured or killed in car, pedestrian, bicycle, and truck crashes, and by dangerous dogs, unsafe products, and premises. He works tirelessly to obtain the compensation his clients are legally entitled to so they may rebuild their lives with dignity. Tom is the co-author of the book Evidence For The Trial Lawyer, and a much sought-after speaker on personal injury, trial practice, evidence, and professionalism. Contact Tom at tcurcio@curciolaw.com.