As a longtime power-boater, I'm excited that boating season is quickly approaching, and like tens of thousands of Virginians, I will be taking to the water with family and friends to soak up the sun this summer. Spending time on the water is enjoyable, but I know from experience that things can quickly take a turn for the worse. It only takes one mistake for a fun boating day to become dangerous. That's why boaters are responsible for behaving prudently and keeping everyone on their vessels safe, much like someone behind the wheel of a car. Boat operators and passengers should know what to do to avoid harm's way and what precautions to take while boating. Being careful can help ensure that everyone makes it home safely. 
The Dangers Of Reckless Boating
The Virginia Department of Wildlife Resources tracks boating incidents that meet specific criteria: death, a missing person, an injury that requires treatment beyond first aid, and property damage of $2,000 or more. In 2022, there were 87 boating incidents in Virginia. Some other statistics:
39 people were injured, and 17 people died on Virginia boats last year

Alcohol was a factor in nearly 1/4th of the crashes

In 94% of fatal incidents, no life jackets were worn, even though Virginia law requires boats to have Coast Guard-approved life jackets 

Property damage from boat crashes cost nearly $450,000 in 2022
In 2021, 658 people died in boat crashes nationally. Alcohol is the number one contributor to fatal boating accidents, and drowning was the top cause of death for boating accident victims. Most of these deaths were preventable. Data from the U.S. Coast Guard details the most common causes of boating accidents.
Operator inattention: On the road, drivers must navigate traffic signals and clogged streets. Because boating happens on open waters, it's easy for operators to let their guards down and let their focus drift. This is the top cause of boating accidents nationwide.
Operator inexperience: Virginia boat operators are required to take a boating safety course that can be completed in a few hours. Some new boat drivers aren't equipped to handle unpredictable circumstances, which can cause a crash. Knowing the rules of navigation and right-of-way are basic requirements for all boat operators.  
Improper lookout:  Maintaining a proper lookout means that a boat operator monitors all passengers, equipment, and other vessels to ensure nothing is in their line of sight. They must observe their surroundings and listen to radio communications to reduce the chance of a crash.
Machinery failure: Sometimes, an operator may behave carefully but still find themselves in an accident. If a boat driver doesn't maintain their vessel — for example, failing to have functioning lights or an overheating engine.  
Excessive speed: Virginia law forbids boaters from traveling higher than wake or idle speed (the lowest speed at which a boat can operate and maintain steering control) within 50 feet of docks, piers, boat houses, boat ramps, or people in the water. Some boaters ignore this law and drive recklessly, which can cause a boating accident.
Alcohol use: Much like motor vehicles, boat operators cannot operate their vessels while under the influence of alcohol. Alcohol impairment also puts passengers at a higher risk of death. It is difficult to swim while intoxicated because it delays your reaction time.
Tips to Keep Boating Season Fun
Virginians will make countless memories on boats this summer. Keeping boating season fun is simple. 
The boat's captain is responsible for the passengers and avoiding risky behavior like drinking alcohol or using a cell phone while operating a boat. Remember that your passengers could also be at risk if they overconsume alcohol, so monitoring their intake is a smart idea.

Boating at night is significantly more dangerous than during the day because of lowered visibility, so enjoying the water while the sun's still out is advisable. 

Have an operational navigation system to prevent getting lost while out on the water.

Ensure your

equipment is in proper working order.

If you and your passengers anchor the boat to swim, make sure that at least one person remains on the boat in case the anchor loosens and the boat drifts away.

A related precaution is to make sure that at least one other passenger on the boat knows how to operate it in the event the captain becomes disabled. 

You should also tell passengers where to find safety vests and have a plan in case of an emergency. 
With these precautions in place, you should be ready to set sail.
If you've been injured in a boating accident, you may want to consult a personal injury attorney to determine if legal action is necessary. Curcio Law offers free consultations to learn more about your situation and can discuss your legal options. Our attorneys regularly handle boating accident cases and can help you get the compensation you deserve. Call or text us today at 703-836-3366 or contact us online for more information.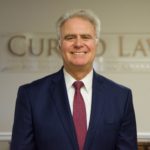 Tom Curcio has devoted his career to representing people seriously injured or killed in car, pedestrian, bicycle, and truck crashes, and by dangerous dogs, unsafe products, and premises. He works tirelessly to obtain the compensation his clients are legally entitled to so they may rebuild their lives with dignity. Tom is the co-author of the book Evidence For The Trial Lawyer, and a much sought-after speaker on personal injury, trial practice, evidence, and professionalism. Contact Tom at tcurcio@curciolaw.com.