Electric bicycles, or e-bikes, are more popular than ever among commuters and pleasure riders alike. They're much better for the planet than motor vehicles and can be a great source of exercise, fresh air, and fun. They come in different models with many great features, like a pedal assist to give riders a boost and tires built for diverse terrain, whether that's city streets or forest trails. 
According to the Light Electric Vehicle Association, U.S. e-bike sales are exceeding those of electric and hybrid vehicles combined with no signs of slowing down. And 2023, e-bike sales are expected to reach 40 million worldwide. Experts point to skyrocketing gas prices as a major factor. E-bikes require no fuel, instead running on rechargeable lithium-ion batteries.  
One North American survey of e-bike owners found that 60% of participants felt the vehicles are safer than traditional bicycles, and 42% of those said e-bikes had helped them avoid a bicycle accident. More than 50 U.S. cities with bike-sharing programs offer e-bikes, and they are even expected to replace standard delivery trucks in the future.
E-bike usage is regulated in Virginia, Washington, D.C., and across the country. If you're considering purchasing one, it's helpful to know more about the types, features, and laws. 
Types of E-Bikes
In Virginia, an e-bike is defined as an "electric power-assisted bicycle" that travels on no more than three wheels and is equipped with pedals that allow human propulsion, seats, and an electric motor not exceeding 750 watts. They come in three classes:
Class 1 – equipped with a motor that provides assistance only when the rider is pedaling and stops assisting at 20 mph;

Class 2 – equipped with a motor that can be used exclusively to propel the e-bike and stops assisting at 20 mph;

Class 3 – equipped with a motor that provides assistance only when the rider is pedaling and stops assisting at 28 mph
Choosing an e-bike can be tricky for new riders because they vary widely in types and features. 
Most first-timers choose a Class 1 bike, which is the most affordable and easily regulated, accepted on city streets, bike paths, and even some mountain bike trails. Class 2 bikes are typically allowed in the same places. Class 3 bikes are favored by those who ride primarily to work or for running errands, as they are faster and more powerful. They are also more expensive and not allowed on bike paths or mountain trails. 
When it comes to batteries, more powerful motors can keep up with traffic and climb hills but also burns battery power more quickly. Because there are many variables affecting riding range, e-bikes vary widely in their pedal-assisted speed capabilities (e.g., between 20-100 miles). Capacities are denoted in watt hours (Wh), the number of hours a battery can sustain a single watt of power before dying. So, a 500-watt motor with a 500 Wh battery will drain power faster than a 250-watt motor with the same battery. Some e-bike models allow for two batteries to be used at the same time. Most batteries require between 3-5 hours for a full charge.
Other features include pedal-assist levels such as eco or boost mode, safety lighting, racks, built-in bike and battery security, handlebar-mounted LCD displays, and even smartphone integration.
Most e-bike frames are aluminum, but other options, such as carbon fiber and steel, are available. 
While several other countries, including Japan, France, Germany and South Korea, have large e-bike markets, China manufactures and sells the most units worldwide. All of the top-selling models are produced there, and many brands in other countries choose to partner with Chinese manufacturers to maximize sales. Most of the world's bicycles either began as imports from China or were assembled in Chinese factories.
E-Bike Laws and Regulation
In Virginia and most other states, e-bikes are regulated similarly to bicycles. 
Riders must be 14 years old or supervised by someone at least 18. Helmets are required for those 18 years or younger, whether driver or passenger and for anyone using a class 3 e-bike. All 1 and 2-class e-bikes are generally allowed anywhere a bicycle is, except that they can only travel on roads with a posted speed limit of 25 mph or less. Class 3 e-bikes are not legal on all greenways or bike paths, so it's best to check the rules of your intended trail beforehand. All e-bikes are considered vehicles on the road and must obey all stop signs and traffic lights. 
Any pedal-equipped bicycle with more than 750 watts that exceed 20 mph with a throttle or 28 mph without a throttle is considered an "unclassified e-bike" but regulated as a motorcycle or moped. E-bike motors exceeding 1,000 watts, exceeding speeds of 25 mph, or without operable pedals are not legal in Virginia. 
Licenses and registrations for e-bikes are not required in Virginia. E-bikes must have motors that disengage when the rider presses the brake or stops pedaling, and modifying the motor is not permitted. All class 3 e-bikes must have a working speedometer. 
In Washington, D.C., e-bikes are defined as bicycles operating by a motor between 20-30 mph, and a standard driver's license is required. 
E-Bike Dangers and Injuries
While e-bikes are fun, environmentally friendly and cost-efficient, their increased weight and speed mean that injuries can be more severe than those of regular bicycles. Trauma surgeon Dr. Walter Biffl told Scripps in a 2022 interview that he regularly sees "a combination of head injury, orthopedic injuries and fractures, spine fractures, road rash and abrasions to the skin." He says that while those injuries are not exclusive to e-bikes, he's seeing them more simply because the number of e-bikes on the road is continually increasing.
A 2019 study found that e-bikes carry a higher risk of severe injury than regular bicycles, along with a different pattern of injury risk compared to scooters. Results of the study included:
E-bike riders are more likely to suffer

internal injuries

and be hospitalized

E-bike injuries are more than three times as likely to involve collisions with pedestrians than regular bikes or scooters 

There were 3,075 e-bike injuries during the study's seven-year period

Males made up more than 83% of the e-bike injuries

17% of e-bike victims sustained internal injuries compared to 7.5% for both scooters and regular bikes
Bike safety experts credit the increased risk of serious injury to higher speeds and the lack of proper biking infrastructure in most areas, such as dedicated bike lanes. 
The batteries used to power e-bikes have also been known to overheat, catch on fire and even explode. Fires involving e-bike batteries are also associated with faulty charging equipment, overloaded circuitry and improper charging techniques. While this problem is too new in many ways to have garnered significant statistics, the New York City Fire Dept. reported more than 130 e-bike/e-scooter fires in 2022.
You can decrease your risk of these fires by purchasing only e-bikes listed and labeled by a nationally recognized testing lab. Don't leave the battery on the charger once it's full, use different charging equipment than what came with the e-bike, or continue using a battery if it shows signs of damage.
Do I Need an E-Bike Accident Lawyer?
If you are injured in an e-bike accident, a law firm experienced in these accidents can help you recover financial damages against the negligent person or party who caused your injury. While collisions can result from driver carelessness, they can also be due to defective parts in your e-bike or government entities who cut corners on road maintenance and improvements. 
In cases of motorist negligence, the injured bicyclist must prove that the motorist caused his injuries. In Virginia, this is difficult without a lawyer because of contributory negligence, a law that states that you cannot recover financial compensation if you are found even one percent responsible for your accident. Proving you had no part in your injury often requires investigating the crash scene and the e-bike and vehicle involved, gathering witness statements, and attending traffic hearings. An experienced Virginia bike accident attorney can take care of all of this for you while you focus on healing.
As an avid cyclist, I have passion for and firsthand knowledge of cycling mechanics and laws that make me uniquely qualified to represent Virginia bike accident victims to secure them the compensation they deserve. For more info or to schedule a free consultation, call or text me at 703-836-3366 or use our online contact form to get started.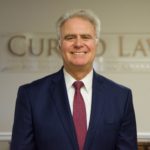 Tom Curcio has devoted his career to representing people seriously injured or killed in car, pedestrian, bicycle, and truck crashes, and by dangerous dogs, unsafe products, and premises. He works tirelessly to obtain the compensation his clients are legally entitled to so they may rebuild their lives with dignity. Tom is the co-author of the book Evidence For The Trial Lawyer, and a much sought-after speaker on personal injury, trial practice, evidence, and professionalism. Contact Tom at tcurcio@curciolaw.com.