As the country begins to open up from the COVID-19 pandemic, people in the bustling streets of the District of Columbia will now be better protected than they were last summer. Washington, D.C., and four states (Virginia, Alabama, Maryland, and North Carolina) still hold to a civil defense called contributory negligence. Contributory negligence means that if you are injured in an accident, and you are even one percent at fault, you are barred from recovering compensation for your injuries.
In December, the D.C. Council passed a new code that makes an exception to contributory negligence for all vulnerable users. The law defines a vulnerable user as anyone "using an all-terrain vehicle, bicycle, dirt bike, electric mobility device, motorcycle, motorized bicycle, motor-driven cycle, non-motorized scooter, personal mobility device, skateboard or other similar devices." The bill called the Vulnerable User Collision Recovery Amendment Act expanded on a similar 2016 law that limited contributory negligence for pedestrians and those on manual bicycles. Both laws opened up a much fairer path for people injured while walking or using these vehicles to recover compensation for their injuries.
Advocates of the change expressed righteous indignation for "vulnerable users" that may be struck by a car and not recover anything if they do so much as look the wrong way or lose control of the bike or e-scooter. 
Related: What Is Contributory Negligence and Does It Impact Your Case
Many of the 46 other states who shed the contributory negligence law favored the much more equitable "comparative negligence," which focuses on shared responsibility for the accident. In places like D.C., where e-scooter ridesharing services exploded in popularity a few years ago, supporters think it was long overdue. A Washington Post poll found that almost one in six D.C. citizens used an e-scooter in 2019. 
There are three types of comparative negligence: pure, modified, and slight-gross. The difference lies in how much recovery is possible. The new D.C. amendment follows a modified version called the "50 percent rule," which means that now vulnerable users will not be barred from recovery if they are less than 50 percent at fault. The protection has also been expanded to include accidents on sidewalks, whereas before, it only applied to roads. 
As detailed in our past blog, protecting vulnerable users is crucial to public safety in the metropolitan area. Virginia has attempted to protect vulnerable users through stricter and harsher criminal penalties to those who injure vulnerable users, while D.C. is attempting to protect vulnerable users by allowing them to recover for their injuries. 
The changes being made by lawmakers are very encouraging and show that D.C. and Virginia citizens are valued. However, vulnerable users' personal injury claims are still very complicated to navigate on your own. The experienced personal injury attorneys at Curcio Law, who are committed to making our roads safer, will work to recover the most damages possible if you or a loved one has been injured. You can call us or text us at 703-836-3366 or send us an email at info@curciolaw.com.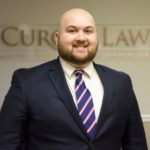 Rakin Hamad joined Curcio Law as an associate in August 2018 after graduating from George Mason Law School. During law school, Rakin demonstrated his dedication to client advocacy and was a member of the trial advocacy association, the pro bono society, and the George Mason Law Review. His approach to the law mirrors the firm's philosophy of treating each client with commitment, compassion and character. Contact Rakin at rhamad@curciolaw.com.