Two boats collided at night on the Colorado River this past Labor Day weekend in a 50-mph impact that ejected all 16 passengers into the dark water without life jackets. Eyewitnesses say one of the two boats was running without lights when the crash occurred.
Occurring around 8pm on Saturday night when the busy waterway was still filled with revelers enjoying the warm evening, both vessels quickly sank and passing boaters rushed to pull victims from the fast-moving water. Soon, the Mohave County Sheriff's search and dive teams were traversing the deep river in an underwater search to recover victims that spanned a 5-mile stretch of the waterway.
While very little details have been revealed yet as to the cause of the collision, this terrible accident sharply illustrates the dire need for boaters to practice safe boating each and every time they are on the water—especially in less than ideal conditions such as limited visibility or crowded waterways. Unfortunately, authorities point out that the same types of factors that contribute to horrific automobile accidents also lead to devastating boat crashes like this one on the Colorado River: operator inattention, operator inexperience and excessive speed.
Additionally, the American Boating Association highlights two factors that are primarily involved when a boating accident escalates to include boating fatalities—not wearing life jackets and a lack of boating safety instruction. Statistics show that 80 percent of boating deaths are the result of an individual drowning—83 percent of whom had no life jacket on—and 77 percent of deaths occurred on boats where the operator had not received a nationally approved boating safety education certificate.
Boats are powerful vehicles that possess unique handling attributes. It is incumbent upon a boat owner to provide his or her passengers with a safe boating experience by first and foremost operating the vessel in a safe manner.
It's important to understand that while boating is fun, it can also be deadly serious if the captain and guests on the boats do not act responsibly. Safety begins with the captain, and the captain needs to set the proper tone for all those on board and be well-versed in the operation and handling of the vessel before inviting others to join him or her on board. That begins by taking the now required Virginia Boater Safety Course and spending time on the water at the helm.
Equally important is when passengers are on the boat, the captain should instruct them to remain seated while the boat is underway, to keep hands and feet inside the boat when moving especially when approaching a dock, to avoid sudden movements, to be alert for other boats and hazards at all times, and to not distract the captain while underway. All of these little things add up to making or breaking a day on the water.
Have fun and be safe!
If you or a family member is involved in a boating accident, it's crucial that you preserve all potentially relevant evidence to the case. Additionally, you should contact an attorney who is experienced in such cases as soon as possible following the accident. Curcio Law can help you successfully navigate such litigation and is ready to hear the details of your case with a free consultation.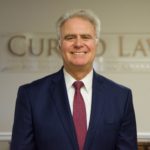 Tom Curcio has devoted his career to representing people seriously injured or killed in car, pedestrian, bicycle, and truck crashes, and by dangerous dogs, unsafe products, and premises. He works tirelessly to obtain the compensation his clients are legally entitled to so they may rebuild their lives with dignity. Tom is the co-author of the book Evidence For The Trial Lawyer, and a much sought-after speaker on personal injury, trial practice, evidence, and professionalism. Contact Tom at tcurcio@curciolaw.com.