What happens when a commercial fishing boat and a 35-foot sailboat collide?
This question was answered recently on Chesapeake Bay waters, where, miraculously, none of the nine crew and passengers upon the two craft was injured. The picture of the aftermath certainly tells part of the story. The crash resulted in the much larger powerboat sliding over the sailboat's starboard side and coming to a stop on top of the smaller boat's deck. Very few details have come to light so far to explain how two sizable vessels got this close to one another at such speed, on a relatively clear, calm, day to have created such a predicament stack up.
While the incident is currently under investigation by the Coast Guard, the collision demonstrates how essential safety procedures and knowledge of boating regulations can be along with general "rules of the road."
For instance, a motorized vessel is usually required to "give way" to a sailboat when under sail—certain exceptions apply, but the rule exists because sailboats are often at the whim of
prevailing winds and unable to maneuver as adeptly as a powerboat.
Virginia is looking to do even more to ensure skippers maintain a high level of situational awareness when they're out on the water—since July 1, 2016, the state has required all operators of motorboats to possess a Boater Card, which they can only obtain upon completion of a National Association of State Boating Law Administrators (NASBLA) safety course.
Unfortunately, many boaters are unaware of this requirement and operate watercraft on the state's waterways without proper safety training. To date, 16 people have been killed in the Chesapeake and its tributaries—making 2018 one of the Bay's deadliest boating seasons in decades.
Even if you are in compliance with state law when out on the water, there is always the potential for tragedy as it can be impossible to know the experience level of others in your vicinity or predict what they might do at any given moment. Smart boaters know that it's not only important to stay vigilant in order to prevent accidents, but it's vital you know what to do after an accident to ensure the best possible outcome.
As on land, handling an emergency on the water requires some pre-planning, common sense, and proper equipment. The NASBLA boating safety course I recently completed to obtain my Virginia Boater Card recommends having a waterproof first aid kit, and the required flares and a distress flag on board to signal for help. While not included in the safety course, have at least one person on board, in addition to the captain, that knows how to operate the boat in the event the captain becomes disabled or is thrown overboard. Also, at least two people on board should know how to contact the U.S. Coast Guard either by radio or phone, as well as how to contact a boat tow company. The safety course also recommends telling at least one person remaining on land of your intended route/destination and expected time of return. Of course, when all are back on land, in the event of personal injury or property damage, call you boating insurance company to report the incident.
As a lifelong boater, I love being out on the water with family and friends (lately, dogs too) as it makes for a great day in the beautiful outdoors. I always remind myself that while boating is fun, care and caution must be taken at ALL TIMES so that everyone returns to shore safely with their memories of a great day intact.
If you or a family member is involved in a boating accident, it's crucial that you preserve all potentially relevant evidence to the case. Additionally, you should contact an attorney who is experienced in such cases as soon as possible following the accident. Curcio Law can help you successfully navigate such litigation and is ready to hear the details of your case with a free consultation.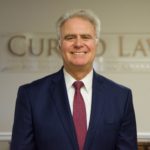 Tom Curcio has devoted his career to representing people seriously injured or killed in car, pedestrian, bicycle, and truck crashes, and by dangerous dogs, unsafe products, and premises. He works tirelessly to obtain the compensation his clients are legally entitled to so they may rebuild their lives with dignity. Tom is the co-author of the book Evidence For The Trial Lawyer, and a much sought-after speaker on personal injury, trial practice, evidence, and professionalism. Contact Tom at tcurcio@curciolaw.com.