In the early days of the pandemic, Americans reconnected with an old friend – the bicycle. To stay away from COVID-19 hotspots, people quickly began bicycling to work instead of taking a bus, riding a bike trail instead of exercising inside a gym, and spending family time outside, peddling the neighborhood together. 
In May, the fitness tracking app, Strava, reported a significant jump in bicycling in several major U.S. cities. In Houston, the total volume of cycling trips was 138 percent higher in May 2020 than in May 2019. In Los Angeles, the jump was 93 percent. To add to that, sales of bikes, helmets, and other accessories topped $1 billion in the spring, nearly double the previous year.
What could this increase of cyclists on the road mean for safety? Even before this biking boom, the U.S. had an ever-increasing number of bicycle-related fatalities. Last year, the Insurance Institute for Highway Safety (IIHS) reported that 854 cyclists were killed in traffic crashes in 2018 – a seven percent increase over 2017. In Virginia, the Department of Motor Vehicles reported 633 serious crashes involving cyclists in the Commonwealth during the same time frame. 
Virginia Biking Laws
The number of biking incidents is alarming, but Virginia does have rules on the books designed to keep cyclists safe. It is up to the citizens to follow suit. Here is a quick snapshot of several statutes concerning bicycling.
Let's begin with where you are allowed to bike. According to Virginia code 46.2-903, cyclists are permitted on sidewalks (with exceptions). As one of only a handful of vehicles permitted on sidewalks, cyclists must always abide by local ordinances and follow any restrictions. Cyclists should always watch for other types of vehicles allowed on sidewalks, such as wheelchairs, electric personal assistive mobility devices, emergency vehicles, and vehicles removing snow and ice.
While allowed on sidewalks, cyclists are required to follow certain rules. Virginia code 46.2-904 states that: 
Cyclists should watch for signs indicating whether bikes are allowed or not allowed.

Cyclists must yield the right-of-way to pedestrians and give an audible signal when passing any pedestrian.

Cyclists cannot ride a bike on a crosswalk when prohibited by official traffic control devices and cannot park a bicycle in a manner that impedes the normal movement of pedestrian traffic or where such parking is not permitted by official traffic control devices.
When it comes to traveling on the roadways in Virginia, bikes are allowed as long as they move with the flow of other traffic. Virginia Code 46.2-905 states that cyclists must ride with the flow of traffic and ride to the right of the road (this way, vehicles can safely pass under safe conditions). Exceptions to this include when cyclists are passing another vehicle going in the same direction, preparing for a left turn, avoiding unsafe conditions, avoiding riding in a lane that turns or diverges to the right, riding on a one-way street where cyclists may ride as near the left-hand curb or edge of the roadway, or when the lane width is too narrow to share with a motor vehicle.
This same code section provides other guidelines for traveling on roadways, including:
Cyclists can ride on the highway shoulder if necessary.

Cyclists must not ride between two lanes of traffic moving in the same direction unless one lane is a separate or mandatory turn lane.

There can never be more than two cyclists riding side-by-side, and if they impede traffic flow, a single file formation is necessary.

On a laned roadway, cyclists should ride in a single lane.
If you need to pass other vehicles while biking, Virginia Code 46.2-907 states,
Cyclists can pass a vehicle on either the left or right side after signaling, staying in the same lane as the overtaken vehicle, changing to a different lane, or going off the road, as necessary to pass safely.

Cyclists cannot travel between two lanes of traffic moving in the same direction except for a turning lane.
As a cyclist, it is essential to know these rules of the road and to follow them. Due to the sheer difference in weight and protection of a motor vehicle and a bicycle, unfortunately, motor vehicle-bicycle collisions usually result in serious injuries. Following these laws will help you, as a cyclist, prevent collisions and keep yourself safe. 
From a legal perspective, it is also extremely important that you follow these rules of the road to protect yourself from a contributory negligence defense. While Washington D.C. has moved to eliminate contributory negligence defenses against cyclists involved in personal injury claims, Virginia has not.
If you or a loved one are injured in a biking accident in Virginia or Washington D.C., the Curcio Law personal injury attorneys are here to help you determine your legal options. For more information, call or text us at 703-836-3366, email info@curciolaw.com, or visit https://www.curciolaw.com.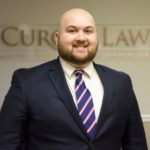 Rakin Hamad joined Curcio Law as an associate in August 2018 after graduating from George Mason Law School. During law school, Rakin demonstrated his dedication to client advocacy and was a member of the trial advocacy association, the pro bono society, and the George Mason Law Review. His approach to the law mirrors the firm's philosophy of treating each client with commitment, compassion and character. Contact Rakin at rhamad@curciolaw.com.