When it comes to rail safety, America ranks very low in comparison to other countries. As pointed out by twitter user, @380kmh, "Japan is averaging 6.6 deaths per year with over 18 billion riders…whereas the USA is averaging 10.9 deaths per year with less than 5 billion riders." That's nearly double the fatality rate for less than a third of the ridership. It begs the question, "How is this allowed to happen?"
Many people argue the U.S. rail safety environment is acceptable and enough importance, time, and energy is placed on safety. The rail safety record, for example, is far better than the vehicle safety record. However, in the last decade there have been more and more accidents on rails, from large public rails like Amtrak, to local rails like the Washington Metro. There are a multitude of contributing factors for the decline but many attribute the lack of funding, caused by cuts each year to funding for infrastructure, as the main issue. It seems the funding for infrastructure is never a priority, unlike other countries which spend double and triple what the U.S. does on their rail infrastructure. For example, in 2015 after the deadly Philadelphia Amtrak crash occurred, Speaker John Boehner accused reporters of asking a "stupid question" when they brought up the budget cut in funding for rail infrastructure in connection with the recent crash. This type of dismissal and lack of support is shown across the board in the American rail history.
For one of the largest countries in the world, the United States invests the least into our rail infrastructure. The U.S. has the one of the lowest riderships, and one of the highest injury and fatality rates for rail safety compared to the rest of the world. Americans need to wake up and point out to the Department of Transportation that a Rail Safety Fact Sheet posted on December 16, 2016 is not going to cut it in 2018, nor is the minimal funding for our rail infrastructure. It's time America caught up to the rest of the world and put more importance on public transportation and the public's safety.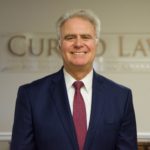 Tom Curcio has devoted his career to representing people seriously injured or killed in car, pedestrian, bicycle, and truck crashes, and by dangerous dogs, unsafe products, and premises. He works tirelessly to obtain the compensation his clients are legally entitled to so they may rebuild their lives with dignity. Tom is the co-author of the book Evidence For The Trial Lawyer, and a much sought-after speaker on personal injury, trial practice, evidence, and professionalism. Contact Tom at tcurcio@curciolaw.com.