In 2021, there were over 118,000 car accidents in Virginia. Of those, 58,786 people were injured, and tragically, 968 were killed. Alcohol, speed, and distracted driving are some of the most common causes of car accidents. Unfortunately, you risk being injured every time you get in a vehicle. Most people purchase auto insurance to protect themselves if they cause a car accident. However, auto insurance also protects you when someone injures you through coverage called uninsured motorist or underinsured motorist coverage (UM or UIM for short). 
Protecting yourself with UM/UIM is important because Virginia car accidents can have short- and long-term personal and financial implications that deeply affect victims and their families. Medical care is costly, and far too often, those injured do not get the compensation they need and deserve because at-fault drivers don't have sufficient insurance coverage.
Many Virginia drivers mistakenly fail to file a UM/UIM claim through their own insurer when they're not at fault. As car accident attorneys, we've frequently heard clients say they didn't want their insurance premiums to increase, a common fear that's unfounded. Why? It's illegal for Virginia insurance companies to raise rates when the insured didn't cause the accident.
It is important to file UM/UIM claims when you are injured in a car accident that is not your fault. The premiums you pay are intended for these situations – to protect consumers – and you can rest easy knowing your car insurance rates won't be affected. 
Why File an Insurance Claim When You're Not At-Fault
The purpose of UM/UIM coverage is to protect yourself up to the same amount that you are protecting others if you cause a car accident. An injured party's damages (medical expenses, lost wages, mental anguish, pain, and inconvenience) often amount to more than what an at-fault driver's insurance or assets cover. This unfortunate reality leaves the injured person with financial losses from the car accident unless the injured party has substantial UM/UIM coverage to compensate them for the injuries the underinsured motorist caused. If you are injured and have UIM coverage above the at-fault driver's auto insurance limits, you need to file a UIM claim to obtain the full and fair amount of compensation for your injuries.
Virginia Car Accident Insurance Legislation – Why Your Rates Will Not Increase If You Are Not At Fault For The Car Accident
When drivers don't exercise "reasonable care" on Virginia roads and highways, such as obeying traffic signals, they are legally responsible for the harm they cause. And thanks to VA Code 38.2-1905, your insurance premiums won't increase after filing a claim if you aren't at fault.
The law states that no insurer is allowed to increase a driver's premium or charge points to the insured in a car accident "unless the accident was caused either wholly or partially" by the insured, someone in their household, or another customary operator. It also says that if an insurer plans to increase premiums or charge points after an accident, they are obligated to notify the insured in writing. Even then, you can appeal the decision, but it must be done within 60 days of receiving notice of the changes.
Simply put, your auto insurance company cannot change your policy, like increase premiums, without just cause because of VA Code 38.2-1905. This law helps protect consumers as it ensures that they can access the auto insurance coverage they have already purchased.
An Experienced Car Accident Attorney Can Help
At Curcio Law, we've seen firsthand how the costs of a Virginia car accident can far exceed the minimum insurance requirements in Virginia. And in many cases, at-fault drivers are completely uninsured, leaving victims with little to no recourse to hold them financially responsible.
We strongly encourage drivers to purchase substantial insurance coverage to protect them in situations where another driver causes an accident. You're entitled to the coverage you pay for to protect against negligent drivers who cause you harm, and insurers cannot raise your premiums when this happens. 
Our experienced car accident attorneys have spent decades protecting the rights of and helping those injured navigate the insurance process and complex personal injury claims to ensure they're adequately compensated. Contact us online or text or call 703-836-3366 for a free consultation.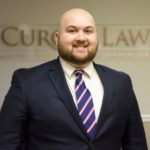 Rakin Hamad joined Curcio Law as an associate in August 2018 after graduating from George Mason Law School. During law school, Rakin demonstrated his dedication to client advocacy and was a member of the trial advocacy association, the pro bono society, and the George Mason Law Review. His approach to the law mirrors the firm's philosophy of treating each client with commitment, compassion and character. Contact Rakin at rhamad@curciolaw.com.