By being among the first to assist at the scene of emergencies, first responders such as paramedics, police officers, and firefighters play a crucial role in keeping the public safe. While many recognize that being a first responder comes with risks, however, few stop to consider that they may be contributing to the danger they face.
In traffic accidents, first responders will turn on the blinking or flashing lights on their emergency vehicles to inform the public of their presence before exiting their vehicles to provide assistance. When emergency vehicle lights are flashing, passenger vehicle drivers have the legal duty to yield, move over, or reduce their speed when approaching a stopped emergency vehicle. While all 50 states have their own version of the "move-over" law, enforcement varies, and many drivers fail to comply. This puts emergency responders working along our highways and roadways at-risk for being struck by a vehicle and injured or killed.
To address this problem, the 2019 Virginia legislature amended existing laws to increase penalties for drivers who violate rules regarding passing stationary emergency vehicles. The legislature hopes to increase first responder safety by reducing the likelihood of them being struck by cars on roadways. The new law, § 46.2-861.1, officially came into effect across Virginia on July 1, 2019.
Under the previous statute, § 46.2-921.1, failure to abide by laws regarding emergency vehicles was considered a traffic infraction and punishable by a $250 fine. In the updated law, a violation is considered an act of reckless driving, a class 1 misdemeanor punishable by up to one year in jail or a fine of up to $2,500.
The updated law was inspired by the October 2018 death of Virginia firefighter Lt. Brad Clerk, who was killed when a tractor-trailer failed to move over and crashed into his fire truck as he responded to an accident. Across the nation in 2018, 40 first responders, including 14 police officers, were killed in the line of duty after being struck by cars, which marks a 60 percent increase from 2017. I was saddened when I learned that a Virginia State Trooper that was a witness in a case I had previously handled was killed while directing traffic at a nighttime event at the high school in his home town.
Research published by the National Safety Council (NSC) found that distracted driving plays a large role in these accidents: in one survey, over seven in 10 drivers admitted to taking photos and texting while driving past emergency workers. Another study estimated that the traffic-related fatality rate for police officers, firefighters, and EMS technicians could be as much as 4.8 higher than the national average of all occupations.
How to Safely Pass Emergency Vehicles: Move Over!
As drivers, we can all do our part by traveling past first responders safely and staying aware of our surroundings on the road and taking these common-sense steps:
Move over (switch lanes) from all emergency personnel or vehicles that are stopped on the side of the road.
If it is not possible to switch lanes, slow down to a safe speed and pass emergency vehicles with extreme caution.
Understand that first responders may not be immediately visible to you, especially if they are behind their or someone else's vehicle.
Maintain a safe following distance behind any emergency vehicle with flashing lights.
Remember, we all have the power to drive safely and lessen the risks to ourselves and others on the roadway. If, unfortunately, a careless driver has impacted you or a loved one, call us at 703-836-3366, email tcurcio@curciolaw.com, or visit us at curciolaw.com and we help you to the best of our ability.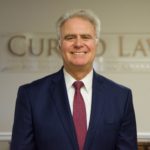 Tom Curcio has devoted his career to representing people seriously injured or killed in car, pedestrian, bicycle, and truck crashes, and by dangerous dogs, unsafe products, and premises. He works tirelessly to obtain the compensation his clients are legally entitled to so they may rebuild their lives with dignity. Tom is the co-author of the book Evidence For The Trial Lawyer, and a much sought-after speaker on personal injury, trial practice, evidence, and professionalism. Contact Tom at tcurcio@curciolaw.com.