"Was there a police report?" 
"Was the driver given a ticket?"
As personal injury trial lawyers, we are often asked those two questions by jurors following a personal injury trial. Understandably, people sitting as jurors would naturally think that seeing the official report prepared by a police officer or state trooper trained to investigate crashes and issue tickets would help them decide what the facts are and whether the driver being sued caused the crash was negligent. As I find the court rules and case law that make up Virginia's law on evidence interesting and well-founded, I am always happy to answer these questions and provide those asking with a little tutorial on the law! 
As a practicing trial lawyer for close to 40 years and the co-author of the book "Evidence for the Trial Lawyer," I have spent much time working with and thinking about evidence law. In doing so, I have a deep appreciation of the rules of evidence and understand that the policy or goal underlying them is to provide judges and jurors tasked with the tremendous responsibility of deciding a case involving adverse parties with the best and most reliable evidence that is available to make their decision. 
Our system of evidence is intended to be fair to all litigants. This is not to say or imply that our law of evidence is perfect. On the contrary, it is continually evolving, with changes made by the legislature or by the courts as circumstances and times change, such as by the advent of social media. 
As to the answer to the questions above. "Was there a police report?" The answer is usually yes, as such investigating officers are required by law to prepare and file such reports with the Virginia Department of Motor Vehicle where a person is injured or killed or property damage exceeds $1,500.00 (See Va. Code § 46.2-373). However, Virginia Code sections 46.2-378 and 46.2-379 both provide that such crash reports "…shall not be used as evidence in any trial, civil or criminal, arising out of …" the accident. There are a few reasons for excluding such reports at trial, again all related to the purpose of having the case decided by the most reliable (i.e., trustworthy) evidence available. 
As stated by the Virginia Supreme Court, such reports, required to be filed with the Virginia Department of Motor Vehicles, are collected primarily for statistical purposes. They are often hurriedly made and carry with them the stamp of a written and official document to which a jury could attach more weight than it is properly due as evidence. Davis v. Colgin, 219 Va. 5, 244 S.E.2d 750 (1978). Additionally, the investigating officer's determination of who was at fault invades the duty and responsibility of the jury in deciding that critical question. It is firmly established in Virginia evidence law that jurors provided with the facts and evidence related to the crash, coupled with their life experience and common sense, are as capable of determining fault as is the investigating officer.    
The answer to the second question…" was the driver given a ticket?" is usually yes. The reason why that fact is not introduced is similar to those prohibiting the admission of the crash reports. The primary reason is that the officer's determination of fault would invade the jury's duty to determine fault. Do note that there are circumstances in which the driver being cited is admissible, but that involves a discussion of hearsay evidence, which is also extremely interesting and will be the topic of another blog.     
If you or someone you know has been injured or you have questions about the admissibility of evidence at trial, call or text Curcio Law at 703-836-3366, email info@curciolaw.com, or visit www.curciolaw.com.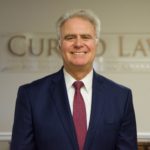 Tom Curcio has devoted his career to representing people seriously injured or killed in car, pedestrian, bicycle, and truck crashes, and by dangerous dogs, unsafe products, and premises. He works tirelessly to obtain the compensation his clients are legally entitled to so they may rebuild their lives with dignity. Tom is the co-author of the book Evidence For The Trial Lawyer, and a much sought-after speaker on personal injury, trial practice, evidence, and professionalism. Contact Tom at tcurcio@curciolaw.com.