Do you ever wonder how long you are going to live? If you do, the Virginia Code has an answer for you. Well, maybe not an answer, but the Code does tell you how long you are expected to live. Virginia Code § 8.01-419 has a life expectancy table that uses current age and gender to determine how long that individual is expected to continue living. Here is a snippet of what the table looks like: 
As you can see, using the table, a 20-year-old female is expected to live another 60.8 years, whereas a 20-year-old male is expected to live another 55.8 years. This Code section is important in personal injury cases because the life expectancy table can be entered into evidence to prove how long the plaintiff is expected to live with their permanent injury.
You may think that the life expectancy table is not indicative of your life expectancy because you are more (or less) healthy than the average individual. Clearly, all individuals are different and can be expected to live for different periods of time. As such, the law instructs the jury to consider other factors along with the table. For example, a sample jury instruction that we use will look like this: 
Instruction No. _____
According to Virginia's Table of Life Expectancy, as a 20-year-old female, Jane Doe has a life expectancy of 60.8 years. You should consider this figure along with any other evidence relating to the health, constitution, and habits of Jane Doe in determining her life expectancy.
As plaintiff's attorneys, we work to obtain the compensation that fully and fairly compensates those injured due to no fault of their own. In cases where the injured party will have to live with pain from their injuries for the rest of their life, the life expectancy table is essential in determining the amount of compensation that truly makes the plaintiff whole. In situations where the plaintiff has a permanent scar due to their injuries, the life expectancy table helps prove how long that plaintiff is expected to live with that scar. 
In cases where the plaintiff suffers a permanent injury, the life expectancy table can also be admitted into evidence in wrongful death cases. A wrongful death action is one where an individual is unfortunately killed due to the negligence of another. In wrongful death cases, the jury is to award damages that compensate the decedent's beneficiaries for their loss of the decedent. Examples of specific elements that beneficiaries are to be compensated for are loss of companionship, comfort, guidance, advice, and the decedent's income. In wrongful death cases, the life expectancy table can help prove how long the decedent was expected to live and how long the beneficiaries could have expected to have with the decedent but for the negligent act that ended the decedent's life. 
If you have any questions about this life expectancy table or how permanent injuries should be compensated, the attorneys at Curcio Law are here for you. Our team has extensive personal injury experience and can help you understand the personal injury process. Call or text us at 703-836-3366 or email rhamad@curciolaw.com.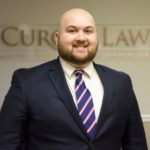 Rakin Hamad joined Curcio Law as an associate in August 2018 after graduating from George Mason Law School. During law school, Rakin demonstrated his dedication to client advocacy and was a member of the trial advocacy association, the pro bono society, and the George Mason Law Review. His approach to the law mirrors the firm's philosophy of treating each client with commitment, compassion and character. Contact Rakin at rhamad@curciolaw.com.