Typically if you are hit by another driver, their auto liability insurance will cover the costs of damages to your car, reimburse your medical bills, and compensate you for your physical injuries, pain, mental anguish, inconvenience, and lost wages. However, if the at fault driver does not have insurance, you would ultimately bear the costs of your medical bills and would not be compensated for your injuries.  Uninsured motorist coverage can help in these situations.
First, there are two types of uninsured coverage, which are often bundled together. They are underinsured motorist coverage and uninsured motorist coverage. Underinsured coverage helps pay for expenses if you're hit by an underinsured driver. This could mean that the at-fault driver's liability limits are not enough to cover your bills after the accident, or their liability limits are less than or equal to your uninsured motorist coverage limit.
For example, if a young adult recently out of college were to rear-end you, their insurance may not be enough to cover your medical bills. Your underinsured motorist coverage would come in handy to ensure all bodily damages were taken care of.
Uninsured motorist coverage is simple, it applies when people who not have insurance cause accidents. There are two types of protection uninsured motorist coverage offers— bodily coverage and property damage coverage. Uninsured bodily injury coverage helps pay for your medical expenses and compensates you for your other injuries resulting from a crash caused by an uninsured driver and may extend to family members who are driving your car or passengers. Uninsured property damage coverage helps with affording repairs your car sustained after a crash caused by an uninsured driver, however, it is not available in all states. Underinsured motorist coverage protects only bodily injury.
Uninsured motorist coverage is required by 21 states and the District of Columbia, (Maryland and Virginia are states that require it). Even though it is optional in over half of the country, 1 in 8 drivers are uninsured according to the Insurance Information Institute. In addition, this guide "Why All Drivers Need Uninsured/Underinsured Motorist Coverage" provides a chart outlining the states that set minimum coverage requirements for UM/UIM. It also highlights important statistics regarding staying safe around other drivers on the road. 
Uninsured and underinsured coverage is smart to have with so many uninsured drivers on the road. It can also protect you in the event of a hit and run collision. We highly recommend adding uninsured coverage to your policies and increasing the coverage if possible.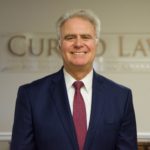 Tom Curcio has devoted his career to representing people seriously injured or killed in car, pedestrian, bicycle, and truck crashes, and by dangerous dogs, unsafe products, and premises. He works tirelessly to obtain the compensation his clients are legally entitled to so they may rebuild their lives with dignity. Tom is the co-author of the book Evidence For The Trial Lawyer, and a much sought-after speaker on personal injury, trial practice, evidence, and professionalism. Contact Tom at tcurcio@curciolaw.com.