Northern Virginia residents are embracing the movement toward simple, accessible and inexpensive transportation and electric scooter companies have responded by rolling out electric scooters in several NOVA cities. Electric scooters, or e-scooters, are extremely convenient because they are dockless. E-scooter riders covet the ability to drop off the scooter wherever they please, opposed to other forms of rental transportation where you must return the rental to specific locations. These e-scooters are popular and convenient, especially in cities like Alexandria, Arlington, and Fairfax where parking is limited and in situations where an individual is going somewhere that is just a little too far to walk.
In addition to the convenience, another reason that the popularity of these e-scooters has skyrocketed is due to how easy it is to rent them. E-scooter riders simply download an app from the affiliated company, such as Lime or Bird, which shows them where to find and unlock a nearby e-scooter. There is typically a small fee to unlock the vehicle, often as low as one dollar. Afterwards, users ride to their destination, paying per mile or minute of riding depending on the company. In Alexandria, Lime e-scooters cost one dollar to unlock then 15 cents per minute of riding.
While e-scooters are extremely convenient and helpful for the riders, they can be a nuisance for those not riding them. With any motorized collisions are a concern. Since e-scooters are frequently driven on crowded sidewalks, crashes with pedestrians are an issue. 
Even when the e-scooters are not being used, they can be a danger to the public. Unused e-scooters are often left randomly on sidewalks and while they are supposed to be left upright, many unused e-scooters end up on the ground and become obstacles that pedestrians and cyclists can easily trip over. 
In addition to the potential risk of injury, some residents of these cities also complain that these dockless e-scooters are cluttering up the sidewalks and ruining the aesthetic nature of the city. 
Virginia State Law Regulates E-scooter Use
The rapid arrival of e-scooters made state legislators rush to pass a bill regulating the devices. In March, Virginia Gov. Ralph Northam signed a state bill outlining regulations pertaining to dockless e-devices including a number of regulations that apply across the state: 
E-scooters have a maximum speed of 20 miles per hour.

E-scooters must weigh 100 pounds or less.  

Riders must be at least 14 years old. 

E-scooter users are permitted to ride on sidewalks. 

Local governments have the freedom to adapt these regulations or ban e-scooters altogether to fit their community needs. 
Using that freedom, NOVA cities have created their own pilot programs. For example, in the City of Alexandria: 
e-scooter riders must be 18 years old.

The maximum speed of e-scooters is 15 miles per hour.

E-scooters are not permitted on sidewalks.

Each company is limited to 200 devices.
In Arlington County, the focus of the pilot program is to limit the number of e-scooters allowed on the streets. Originally, the program allowed 350 vehicles per e-scooter company. However, companies can apply for more vehicles if they are able to show that their vehicles average six trips a day. The pilot program also requires dockless companies to pay $8,000 for a permit, post a surety bond, and remove improperly parked devices within one hour of a complaint from 8 a.m. to 9 p.m. each day. 
Fairfax is the latest to enter the e-scooter world. The city launched a year-long pilot program on July 8, 2019. In Fairfax:
Riders are subject to the same laws as cyclists.

Riders are not allowed on sidewalks or walking trails.

Companies are limited to 250 scooters within the city.

Companies must pay a $5,000 permit fee and a monthly usage fee of 5 cents per trip to the city.
What Should You Do If You Or A Loved One Experiences An E-Scooter Injury
We have seen many e-scooter fact patterns emerge that have resulted in injuries. As of the end of July, there have been two reported crashes and seven reported injuries in Alexandria since the dockless device program's January launch. In the city of Atlanta, Georgia, there have been four e-scooter deaths in the past three months; and in Washington, D.C., there has been one e-scooter rider fatality since the launch of the devices in late 2017. 
In collisions where the rider of the e-scooter is injured from a collision with a car, the negligent driver's auto insurance covers the injury as they would in any other traffic accident. In collisions between e-scooters and pedestrians, the answer is not as clear-cut. While it depends on your policy, auto insurance policies usually do not cover vehicles with less than four wheels. Usually collisions involving a negligent cyclist is covered under the cyclist's homeowner's policy, however those homeowner's policies do not cover motorized devices. Furthermore, the e-scooter rental company is only going to cover injuries sustained due to a defect of the e-scooter. E-scooter companies are not covering injuries resulting from the negligence of their drivers. In general, when you click the 'I Agree' button to rent the device, you are agreeing to ride at your own risk. 
Injuries arising from the use of e-scooters have to be evaluated on a case-by-case basis. The legal framework around e-scooter injuries is still evolving and ever-changing. If you or a loved one is the victim of an e-scooter injury, you will maximize your potential compensation by working with an experienced lawyer. Please email me, call (703) 836-3366, or visit us at curciolaw.com today and we will follow up with you right away.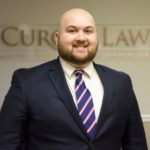 Rakin Hamad joined Curcio Law as an associate in August 2018 after graduating from George Mason Law School. During law school, Rakin demonstrated his dedication to client advocacy and was a member of the trial advocacy association, the pro bono society, and the George Mason Law Review. His approach to the law mirrors the firm's philosophy of treating each client with commitment, compassion and character. Contact Rakin at rhamad@curciolaw.com.