With the country's employers struggling with a national labor force down more than four million people, it is difficult to find workers. Fleet owners are saying they can't hire enough drivers to meet the booming consumer demand in the trucking industry alone.
However, despite the challenging times, employers must ensure that the people they hire do not pose threats to fellow employees or the public. If the employer doesn't do so, and an injury happens, it could face crippling lawsuits under what is known as "respondeat superior." This legal doctrine establishes that an employer has a legally enforceable duty to ensure its employees obey laws, follow safety rules, and use and maintain equipment safely.
While respondeat superior holds the employer responsible for the employee's actions, the employer could also be found liable under other legal doctrines for an employee who is dangerous or has shown signs of becoming dangerous, including negligence of hire or negligence of retention.
The bottom line is that employers must always keep safety at the forefront when hiring and keeping workers. Whether during the hiring process or well into the employee's career at the company, the employer owes a "duty of care" to others.
If employers take the proper steps before the hire, as well as monitor the employees' work and actions, looking for clues that they could become a safety issue to the business (and to other people), they should stay clear of legal ramifications later.
However, if they don't, and someone falls victim to what we call a "bad" employee, the employer could find themselves embroiled in expensive lawsuits concerning negligence in the workplace. 
Negligent Hiring and Negligent Retention
As mentioned above, two types of claims based on the premise of respondeat superior include negligent hiring and negligent retention.
With negligent hiring, the court needs to assess whether the employer exercised reasonable care in choosing an employee (with the particular responsibilities the job requires them to perform). Before the hire, the employer must check the applicant's background and complete verification of a potential hire's work history.
An example of a well-known case involving negligent hiring is Ward v Trusted Health Resources, Inc., a case heard in Suffolk County Superior Court in Massachusetts. A healthcare provider failed to perform a background check on its home healthcare employee. If someone had done a background check, the employer would have learned of the employee's six felony convictions in his past. The employee murdered one of the company's clients as well as the client's grandmother.
Because of the negligent hiring, two innocent victims were dead, and families were left grieving. The lawsuit resulted in Trusted Health Resources Inc. paying out $26.5 million to the plaintiff, including $18 million in punitive damages. 
With negligent retention, the same elements are applied. However, negligent retention concerns not the employee's actions before the hire but the point when an employer knew, or should have known, of the hired employee's dangerous tendencies and failed to remove or fire them after their inappropriate or unsafe conduct. Once an employer becomes aware of an employee's problematic behavior, the employer is negligent if they do not address the issue. 
For a claim of negligent retention to be valid, the employee's work record, prior complaints, and reports of improper behavior while on the job must be of a nature to put the employer on notice that retaining the employee puts others at an unreasonable risk of harm. Plaintiffs can win a lawsuit against an employer who has not taken action against an employee after shared reports concerning inappropriate behavior or harmful language of a sexist or racist nature.
An example of negligent retention can be found in the case, Anicich v. Home Depot U.S.A, involving a female employee of a Home Depot in Wisconsin. The employee was murdered by her supervisor after he forced her to go with him to an out-of-state family wedding (after threatening to fire her if she did not go). 
The man who killed the woman was convicted of murder and sexual assault and sentenced to life imprisonment. The lawsuit against Home Depot, brought by her family, alleged the company had employed a manager with a known history of sexually harassing, verbally abusing, and physically intimidating his female subordinates.
Although a district court initially dismissed the lawsuit, the Seventh U.S. Circuit Court of Appeals in Chicago eventually determined the previous allegations made against the manager toward his female subordinates showed his further actions were foreseeable and that "…hearing such evidence, a reasonable jury could easily find that the employers could and should have foreseen that (the manager) would take the (further step) to violence." 
No matter the industry, to keep all citizens safe, it is essential that employers, whether big or small, are held accountable for the known or knowable unlawful or unsafe behavior of their employees.
An example of a negligent hiring and negligent retention case we are currently handling involves a woman badly injured when her car was struck by a dump truck that ran a red light. Through investigation of the dump truck driver's driving record while we were working up the case, we learned that the driver had multiple moving violations extending over a 7-year period, some of which occurred shortly before the crash in which our client was injured. Given the number of violations involved and the time periods, we expect to prove that the employer either hired a driver it should have known posed an unreasonable risk of injury to the public, failed to do the required background investigation of the driver's driving record, or retained an employee it knew or should have known posed an unreasonable risk.    
What Are Ban the Box Laws
The applicants applying for jobs also have protections. What is known as "ban the box" laws were created to ensure all job candidates' rights are protected and receive equal consideration for employment opportunities regardless of their criminal backgrounds.
Many states, including Virginia, have a "Ban the Box" law. This means it is illegal for employers to ask about a potential employee's criminal conviction history. 
The name of this law comes from the traditional way businesses ask a job candidate to check a box on a job application to show if they have been convicted of a crime.
Although employment laws concerning criminal background checks vary from state to state, they are designed to ensure all job candidates receive equal consideration for employment opportunities, regardless of their criminal backgrounds. At the same time, for employers, the laws clarify how to perform the checks and notify candidates of the results of the checks.
Specific to Virginia, the Ban the Box law does not allow employers to require a job applicant to "disclose information concerning any arrest, criminal charge, or conviction" until after attending an initial interview (and signing a waiver). Employers can only decide based on the criminal background history after first performing an individual assessment (once this is done, and the employer chooses not to hire them, they do not have to tell candidates they're rejecting them because of their criminal background).
Government Regulations for Hiring in Various Industries
Across the country, employers are expected to protect both their current workers and the public by fully knowing whom they are hiring. This requires employers to develop their own protocols in most private companies' applications, interviews, and hiring processes. 
However, when it comes to public health and safety, the government, at both the local and the federal levels, has implemented regulations in the hiring process for specific industries, including healthcare workers, teachers, and emergency responders.
For example, under the United States Department of Transportation (DOT), the Federal Motor Carrier Safety Administration (FMCSA) regulates the safety of commercial motor vehicles, requiring those who hire truck drivers to follow what some would consider a rigid process.   
For vehicles weighing 10,000 pounds or more, transporting more than nine passengers, or transporting hazardous materials, the FMCSA requires a Class A, B, or C commercial driver's license, and a DOT employment verification background check must be completed for a driver to be hired. The check serves as a complete review of the applicant's driving history, with the driver's motor vehicle record from each state they have held a license or permit in the last 36 months. It also includes a physical exam, a drug and alcohol screen and test, and hand-signed authorization forms from each former employer confirming the employee's history.
Unfortunately, even with the detailed requirements in place, large truck crashes continue to occur. According to data from the Insurance Institute of Highway Safety, in 2019, a  total of 4,119 people died in large truck crashes. 
Although not all truck crashes were the fault of the trucking company's hiring process, there are cases of employers failing to follow the required DOT procedure. And, especially now, while those who hire drivers are struggling to find workers, they need to stay diligent and honor the process, and if not, they should be held accountable.
Whether it is a retailer who does not follow up on complaints of an employee making suggestive remarks to subordinates, a healthcare worker given a job without the employer checking his criminal record, or a truck driver causing a fatal accident after an employer did not review his traffic infractions, a victim or a victim's family deserves compensation for the injuries they have sustained. For the public's safety, those responsible, whether an individual or a large corporation, should be found negligent in a court of law.
You should consult an attorney with experience in negligent hiring and negligent retention cases to determine if your injuries are due to someone else's negligence or reckless behavior. Call or text Curcio Law at (703)-836-3366, contact us online or email me directly at tcurcio@curciolaw.com.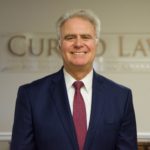 Tom Curcio has devoted his career to representing people seriously injured or killed in car, pedestrian, bicycle, and truck crashes, and by dangerous dogs, unsafe products, and premises. He works tirelessly to obtain the compensation his clients are legally entitled to so they may rebuild their lives with dignity. Tom is the co-author of the book Evidence For The Trial Lawyer, and a much sought-after speaker on personal injury, trial practice, evidence, and professionalism. Contact Tom at tcurcio@curciolaw.com.