Although people have adjusted the way they socialize during the pandemic, trampoline parks across the country are still open for business. The indoor recreational facilities with their wall-to-wall trampolines and party areas make them an easy way to celebrate birthdays or other special events. Some people also see them as an alternative to working out in a traditional gym.
However, as they have gained popularity in the last several years, so have the number of trampoline park-related injuries. According to research done for the American Academy of Pediatrics, between 2008 and 2017, it was 32 percent more likely a trampoline-related bone fracture would occur at a gym or recreation facility rather than on an at-home trampoline. During the same time frame, instances of broken bones suffered by children while on trampolines rose by an average of nearly four percent each year. 
Indoor trampoline parks began to gain notoriety in the early 2000s, and currently there are more than 800 parks across the country, with about two dozen spread across Virginia and Washington D.C. Some of the most recognizable trampoline parks include Defy, Flight, Jump, Launch, Rebounderz, and Sky Zone. 
Trampoline Park Injuries
Trips to emergency rooms are often due to users colliding, falling onto unseen hazards when moving across the various trampolines, or landing improperly while performing stunts. 
Inside a trampoline park, the connected series of trampolines becomes one large, unpredictable surface. The more people allowed to jump at once, the more hazardous it becomes. Customers are left with not just sprains, strains, broken arms and legs, but broken necks, backs, and head injuries.
In a 2019 CBS News report, Dr. Pete Pidcoe, an engineer in Virginia, explained, "The design of many trampoline parks is such that the energy from jumpers moves across all the bouncing surfaces. This can cause jumpers to double bounce or bounce out of control and collide with others." The wave of energy created can lead to devastating injuries that people may not be aware of before deciding to bounce. 
Jumping At Your Own Risk
It's important to note that the American Pediatric Orthopedic Association discourages children under six from using a trampoline. In addition, the American Pediatric Association has consistently discouraged allowing children to use trampolines in general.
If individuals, no matter their age, choose to use trampoline parks, they should do so only with an abundance of caution. Currently, trampoline parks are not regulated at the federal level or the state level in Virginia. The industry is regulating itself. 
However, there are some ways that both trampoline park operators and participants can help protect against injuries. Some guidelines that should be implemented and followed include:
Adult supervision at all times.

Users sharing a space should be equal in size. An adult weighing 190 pounds should not share a trampoline with someone who weighs 85 pounds. 

Do not engage in risky behavior, including stunts, flips, and leaping from the trampoline.

Allow ample room to bounce and jump, and limit the number of people to one section of the trampoline. 

Ensure you are using a park whose staff performs routine maintenance on the equipment and has a set of safety rules. Warnings should be displayed in permanent locations throughout the facility.
You should reconsider participating at a trampoline park if these important safety procedures aren't in place. If a customer is injured at a trampoline park not adhering to the above guidelines, the trampoline park could be liable for their negligence. 
What To Do If Injured at a Trampoline Park?
It is standard procedure for trampoline parks to require customers upon entry to sign a waiver releasing the business from responsibility for injuries. Many people believe that signing the waiver means you have no right to pursue damages for injuries incurred while jumping. However, in Virginia, these types of waivers go against public policy and may not be enforceable in a court of law. Since the waivers are signed prior to beginning the activity, it's not fair to the participant. 
In Hiett v. Lake Barcroft Community Association, 244 Va. 191, (1992), the Supreme Court of Virginia stated: "[T]o hold that it was competent for one party to put the other parties to the contract at the mercy of its own misconduct… can never be lawfully done where an enlightened system of jurisprudence prevails. Public policy forbids it, and contracts against public policy are void.'' 
Even if a signed waiver is unenforceable, it still can be difficult to make a personal injury claim against a trampoline park. This is why it's best to consult a Virginia personal injury attorney with experience in these types of claims to help determine how to proceed. 
If you or someone you know has suffered an injury at a trampoline park, the Curcio Law team would be happy to review your case. Give us a call or text us at 703-836-3366, email info@curciolaw.com, or visit www.curciolaw.com.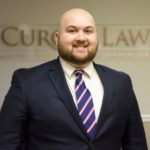 Rakin Hamad joined Curcio Law as an associate in August 2018 after graduating from George Mason Law School. During law school, Rakin demonstrated his dedication to client advocacy and was a member of the trial advocacy association, the pro bono society, and the George Mason Law Review. His approach to the law mirrors the firm's philosophy of treating each client with commitment, compassion and character. Contact Rakin at rhamad@curciolaw.com.