Most dogs are a source of outpouring love, but sometimes man's best friend turns violent. About 4.7 million dog bites occur in the U.S. each year, 800,000 of which require medical care. Bills can be surprisingly costly for the nearly one in five dog bite victims that need medical attention. Partly due to increased medical costs, in 2017, the average personal injury recovery from a dog bite increased by 11.5 percent and total recovery resulted in nearly $700 million.
Walking your dog on a leash is a simple yet effective step that can be taken to reduce the likelihood of a dog bite incident occurring. Many dog attacks could be prevented each year by the simple use of a leash, lead, or other form of physical restraint that keeps dogs from freely approaching others.
Dog bites are not isolated to a handful of breeds or dispositions: even dogs that are usually sweet and gentle can unexpectedly bite if they feel stressed, scared, threatened, or startled.
Leash Laws in Virginia
There is no uniform leash law in the state of Virginia. There are, however, two laws that pertain to leashing dogs. In general, they allow localities to create their own legislation that requires dogs to be on a leash and/or prohibits dogs from running at large:
§3.2-6539: This law gives governing bodies of Virginia localities the option to require dogs to be leashed. To do so, the local governing body must request the circuit court order a referendum to determine whether the ordinance will be adopted. The referendum is then certified in accordance with the procedures stated in § 24.2-684 (see below).
§ 24.2-684: If a referendum is authorized, it can be placed on a ballot to be voted upon by the qualified voters of the county, city, or town it applies to. The results are then certified by the secretary of the appropriate electoral board to the State board, court ordering the election, and other proper authorities.
Since there is no uniform leash law in Virginia, it is important to check your locality's ordinances before walking your dog. Most localities in Northern Virginia require dogs to be on leashes: Fairfax County, Arlington County, Loudoun County, Manassas, and Stafford County and the City of Alexandria all require dogs to be leashed. It is also unlawful for owners to place a dog in the custody of an individual who is not physically capable of controlling the dog effectively.
What Can You Claim After a Dog Bite Injury?
Our law firm has handled several cases where dogs off-leash have attacked individuals walking their own dogs. In these instances, the unleashed dog typically attacks the leashed dog first, and then turns to attack the owner who is trying to protect their pet. Depending on the specific circumstances, two types of claims can arise from dog bite injuries:
Property claim: In the eyes of the law, pets like cats and dogs are considered their owner's property. So, if an owner's pet sustains a bite injury from another dog, the owner of the injured dog can file a property claim to be compensated for the "cost of repair." The "cost of repair" usually is the amount of the veterinarian's bills.
Personal injury claim: If a person is the victim of a dog attack, a personal injury claim can be filed. In some cases, dog bites can result in serious injuries, such as tearing of skin and tissue, bone fractures, infections, scarring, and even death. While it is extremely rare for a dog attack to be fatal, it is not unheard of: in 2018, 36 dog attacks killed 15 children and 21 adults across the nation.
Handling dog bite cases without a lawyer can be difficult because, as just mentioned, there are usually two different types of cases that you need to resolve. If you, a loved one, or a beloved pet has been the victim of a dog bite injury that required medical attention, to maximize your potential compensation you will need an experienced lawyer to handle your case. Please contact me at rhamad@curciolaw.com, call at (703) 836-3366, or visit us at curciolaw.com today and we will follow up with you right away.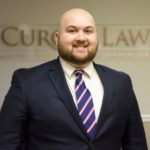 Rakin Hamad joined Curcio Law as an associate in August 2018 after graduating from George Mason Law School. During law school, Rakin demonstrated his dedication to client advocacy and was a member of the trial advocacy association, the pro bono society, and the George Mason Law Review. His approach to the law mirrors the firm's philosophy of treating each client with commitment, compassion and character. Contact Rakin at rhamad@curciolaw.com.