Suppose you or someone you love experiences a traumatic brain injury (TBI) because of another party's negligence. You can file a lawsuit to recover money lost because of expenses like medical bills and time away from work. You can also seek damages in a catastrophic injury lawsuit for non-quantifiable losses like pain and suffering and a decreased quality of life. After obtaining a settlement, you'll usually have the option to choose between a lump sum and a structured settlement plan. Most people are familiar with lump sums, where you receive all the money at once. But sometimes, it is advantageous for those who have experienced brain injuries to opt for a structured settlement. 
Lump Sum vs. Structured Settlement
Let's say that you'll receive a $300,000 settlement from a personal injury case. You have the option to receive the payment all at once, which many claimants pick. A structured settlement would result in periodic payments over a set period of time for set amounts. Since the original funds were placed into a structured settlement-$300,000 in our example-earns interest over time until payments begin, the payments, when made, are a combination of principal and interest. Interest continues to accrue on the funds remaining, and each payment is a combination of principal and interest. As such, the $300,000 originally placed into a structure will ultimately pay more than that sum, the total amount determined by the length of time the structure has to earn interest. These plans are customizable, and some structured settlements involve a one-time payout followed by periodic payments. Some structured settlement plans last a lifetime, especially if the injured party is young. Getting a substantial check all at once may seem more appealing than a payout that will take several years, but a structured settlement often makes sense for TBI survivors. 
Traumatic Brain Injuries & Structured Settlements
Any catastrophic injury can cause lifelong damage, but brain injuries uniquely affect the body. More than two million people are diagnosed with TBIs every year. Someone who survives a brain injury may suffer vision loss, have trouble walking, and struggle to process information. According to the CDC, more than half of TBI survivors cannot work five years after the injury because of cognitive problems. One-third can't complete everyday activities on their own. 
Severe brain injuries can cause permanent health complications that drastically change someone's quality of life. Brain injuries can affect communication between the brain and muscles, making patients unable to move their limbs. Some TBIs can make it impossible to speak or cause hearing loss. Most people with severe brain injuries will require rehabilitation and physical therapy. They may need to remodel their homes to make adjustments for wheelchairs and walkers. Being discharged from the hospital is only the start of recovery for many brain injury patients.
Because of the unique complications that brain injury survivors face, a structured settlement is often the most beneficial option. Once you spend a lump sum settlement, it's gone — and if you spend too much upfront, you'll be left struggling to pay for costs down the road. A structured settlement provides a regular income and can be timed to help with future medical treatment and purchasing of medical equipment. Brain injuries often last a lifetime, and a payment schedule ensures the money is distributed evenly.  
Structured settlements have significant benefits. The money isn't treated as income, meaning the IRS doesn't tax it. And because they're customizable, a plaintiff who's suffered a brain injury has control over the payment schedule. They can take some of the settlement at once and ask for the rest in structured installments. They can even choose when to start receiving settlement payments. Structured settlement annuities are secure from market fluctuations, and the total amount paid out over time is often significantly higher than the lump-sum settlement. 
Which Settlement Type Is Right For Me?
No two brain injury cases are the same. Knowing whether a lump-sum or structured settlement is a better decision will depend on various factors, and it's not a choice you should make on your own. The Virginia personal injury lawyers at Curcio Law know that traumatic brain injuries create an overwhelming financial burden, so you must pick the best settlement type for your situation. Our team focuses on brain injury cases and is committed to helping you get the help you need. We have handled numerous cases in which our clients were best served by structuring some or all of their settlement. Additionally, we have long-standing and trusted relationships with experts in designing structured settlements, which share our commitment to always recommending what's in the client's best interest. Call or text us at 703-836-3366, email info@curciolaw.com, or contact Curcio Law online for more information or a free case evaluation.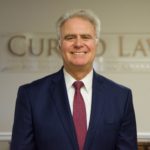 Tom Curcio has devoted his career to representing people seriously injured or killed in car, pedestrian, bicycle, and truck crashes, and by dangerous dogs, unsafe products, and premises. He works tirelessly to obtain the compensation his clients are legally entitled to so they may rebuild their lives with dignity. Tom is the co-author of the book Evidence For The Trial Lawyer, and a much sought-after speaker on personal injury, trial practice, evidence, and professionalism. Contact Tom at tcurcio@curciolaw.com.