There are around 40,000 traffic deaths every year in the United States — most, if not all, of them, are preventable. While total traffic deaths declined slightly from 2018 to 2019, pedestrian deaths are skyrocketing. In fact, 2018's 6,283 pedestrian deaths marked the highest number in nearly 30 years, and pedestrian fatalities have increased by 40% in the past decade. Vision Zero, a multi-national traffic safety initiative, has been implemented in Alexandria, Virginia, in an attempt to end these senseless deaths.
Vision Zero originated in Sweden in the 1990s, and the program has been successful across Europe. So far, over 20 cities and counties in the U.S. have implemented Vision Zero in hopes of replicating the success in Europe. Vision Zero challenges the traditional viewpoint that traffic deaths are inevitable, arguing that even though human error itself is inevitable, road systems and related policies can be designed in a way that prevents these errors from costing people their lives.
Vision Zero Initiatives in Alexandria City
Working in conjunction with Alexandria Families for Safe Streets (AFSS) – a group of concerned citizens, crash survivors, and family members of crash fatalities – the Alexandria City Council officially adopted its version of the Vision Zero Action Plan, on Dec. 16, 2017. Under the plan, 58 action items were outlined as strategies the city will use to make the streets safer. Ultimately, the Vision Zero goal is for traffic-related fatalities and serious injuries to be eliminated in Alexandria by 2028.
An average of 37 people are killed every year in Alexandria. Following national trends, Alexandria pedestrians are far too often the victims of preventable fatal accidents. Alexandria crash data for 2011-2016 identified 445 pedestrian accidents, one in seven of which resulted in serious injury or death. Among these accidents, turning-movement crashes were the most common (i.e., a turning vehicle striking and hurting or killing a pedestrian). To help combat turning-movement crashes, Alexandria's Vision Zero plan is heavily focused on improving safety for "vulnerable road users," which includes pedestrians, bikers, children, and seniors.
As part of Vision Zero, Alexandria officials reduced the speed limit on the Jefferson Davis Highway portion of U.S. Route 1, a high-crash corridor, from 35 to 25 mph in August 2018. This change was made after national data showed that lowering speed limits from 35 to 25 mph greatly improves the outcome of pedestrian crashes. The data also showed that when vehicles hit pedestrians while traveling at speeds of 30-39 mph, 35% of them were seriously injured or killed as opposed to 18% when the vehicles were traveling between 20-29 mph. Speed limit reductions on King Street, Seminary Road, and Quaker Lane in Alexandria have already resulted in a decrease in the number of crashes of up to 53%.
One tool to decrease pedestrian injuries is leading pedestrian intervals. "Leading pedestrian intervals" give traffic signals to pedestrians before the traffic signals are given to the motor vehicles. Leading pedestrian intervals give pedestrians "head starts" in intersections, letting them establish their presence and begin crossing 3 to 7 seconds before left-turning vehicles are given a green signal. In January 2019, the City of Alexandria announced that 17 leading pedestrian intervals were installed in city intersections and corridors with high crash rates. According to the National Association of City Transportation Official, leading pedestrian intervals "have been shown to reduce pedestrian-vehicle collisions as much as 60% at treated intersections."
Unfortunately, at Curcio Law, we see many pedestrian injuries and fatalities related to motor vehicle collisions. When a pedestrian is injured from a motor vehicle collision, the injury is almost always a severe one. Pedestrians inherently lack protection against a motor vehicle. Due to the severity of the injuries, pedestrians injured in a motor vehicle collision need to have an attorney represent them in a personal injury case.
If you or a loved one was injured or killed as a pedestrian in a motor vehicle collision, call us at 703-836-3366, email rhamad@curciolaw.com, or visit us at curciolaw.com, and we will follow up with you right away to discuss your legal options.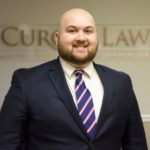 Rakin Hamad joined Curcio Law as an associate in August 2018 after graduating from George Mason Law School. During law school, Rakin demonstrated his dedication to client advocacy and was a member of the trial advocacy association, the pro bono society, and the George Mason Law Review. His approach to the law mirrors the firm's philosophy of treating each client with commitment, compassion and character. Contact Rakin at rhamad@curciolaw.com.