The Blue Ridge Parkway's 469-mile stretch of scenic beauty and winding roads draws in over two million visitors in October alone. With this in mind, motorcyclists need to take extra precautions when traveling through the area due to the massive influx of leaf-peeping visitors that the fall season brings, combined with the specific hazards of riding through mountainous areas—particularly true with the news of multiple recent accidents on the Parkway.
On October 28, a multi-vehicle wreck on the Blue Ridge Parkway caused the death of 30-year-old motorcyclist Shaela Lee Christner. Christner's motorcycle struck a vehicle that was in the process of turning into the overlook. She then struck a second motorcycle that was stopped behind the first car she hit. A Blue Ridge Parkway Chief Ranger commented on some of the factors that make navigating the Parkway more difficult: changes in weather due to increased elevation, limited visibility because of curves and hills in the road, and falling leaves obstructing vision or creating a hazard.
Another man who traversed the Parkway on his motorcycle currently has a lawsuit filed against the federal government for $1.7 million over a motorcycle wreck that was allegedly caused by improper road signage. The accident nearly cost the motorcyclist, Dallas Fisher, his life; he broke multiple ribs and punctured a lung, which ultimately resulted in over $500,000 in medical bills. Fisher claims that the placement of the warning road signage did not allow him enough time to stop, which is consistent with the Federal Highway Administration's standard that warning signs should be placed a minimum of 100 feet away from the potential hazard.
As a driver, it is important to pay meticulous attention to signage and the speed limit to reduce the likelihood of any incident like this occurring.
Ultimately, the best way to avoid a motorcycle accident in the mountains is to adhere to certain safety precautions that include:
Ride the curves of the road slowly. This allows for more time to react if an incident occurs.

Diligently watch for wildlife. Oftentimes, animals will travel along the side of the road and unknowingly dart into traffic.

If you want to take in the view or snap some pictures, safely stop at an overlook instead of trying to do so while in motion—you can't afford to be distracted and not completely focused on the road.

Stay attentive to changes in the speed limit. While the highest posted speed limit on the Blue Ridge Parkway is 45 miles per hour, areas with sharp curves or high congestion are much lower and can change frequently.

Recognize that other motorists on the Parkway may be distracted by the views so drive defensively.

Be especially alert for traffic entering and exiting pull-off areas as motorists often make erratic maneuvers.       
Motorcyclists need to remember that mountainous areas pose numerous challenges that introduce additional hazards, especially when automobile drivers are trying to contend with the same issues. While mountain riding can be an exciting challenge, remember that it's important to never lose your focus on safety—your life may be riding on it!
If you or a family member have been involved in a motorcycle accident and have questions concerning your rights, please call us at 703-836-3366, email tcurcio@curciolaw.com, or visit us at curciolaw.com to arrange a free consultation.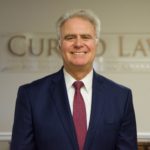 Tom Curcio has devoted his career to representing people seriously injured or killed in car, pedestrian, bicycle, and truck crashes, and by dangerous dogs, unsafe products, and premises. He works tirelessly to obtain the compensation his clients are legally entitled to so they may rebuild their lives with dignity. Tom is the co-author of the book Evidence For The Trial Lawyer, and a much sought-after speaker on personal injury, trial practice, evidence, and professionalism. Contact Tom at tcurcio@curciolaw.com.