If a drunk driver injures you in a collision, the immediate aftermath of the accident may consume your focus. Once the dust settles and you consider legal action, you may wonder how much compensation you can seek for medical bills, physical injuries, physical pain, mental anguish, inconvenience, and lost wages resulting from the accident. Seeking the compensatory damages, you are legally entitled to are intended to make you whole. 
But if the accident happened in the state of Virginia, you may also be eligible for punitive damages. They aren't awarded to compensate you but instead designed to punish the drunk driver based on their behavior before and after the collision.
What Are Punitive Damages? 
Compensatory damages are intended to make you whole, to compensate you for something that has been taken away from you (i.e., good health) by the negligence of another. On the other hand, punitive damages penalize the defendant for their actions and are paid on top of compensatory damages. Drunk driving is a crime, but that alone doesn't mean you are eligible for punitive damages if a drunk driver causes a vehicle collision. 
Punitive Damages: Are You Eligible?
While the standard for obtaining an award of punitive damages is hard to meet, it can be proved by the outrageous and wanton driving behavior of the defendant or the alcohol level in his/her bloodstream. 
The Booth v. Robertson's case illustrates the challenge of meeting the threshold for an award of punitive damages, a case decided by the Virginia Supreme Court in 1988. (236 Va. 269). The defendant's driving behavior leading up to the crash was outrageous. Doris Martin Booth sued George Barnitz Robertson after he caused a car collision while driving drunk on the wrong side of a divided interstate highway at a very high speed at night over a long distance. At the same time, other vehicles swerved out of his way, blew the horn, and flashed the lights. 
Despite all those warnings, Roberson continued driving and crashed head-on into Ms. Booth's car, causing serious injuries. Robertson pled guilty to driving under the influence and the jury awarded Booth $75,000 in compensatory damages. Despite the amount of evidence showing the extremely dangerous manner in which Robertson was driving, the trial judge ruled the evidence was insufficient to prove that Robertson acted willfully and wantonly and with a reckless disregard of the rights of others, and therefore did not let the issue of punitive damages reach the jury for a decision. On appeal on the issue of punitive damages, the Virginia Supreme Court reversed and ruled that Booth could pursue punitive damages after all. Here's an excerpt from the court's decision:
"We disagree with the defendant. We think that a conscious disregard of the rights of others may be proved by means other than a defendant's subjective statements. The objective fact that the defendant in this case voluntarily consumed enough intoxicants to produce a reading of 0.22% blood alcohol content, causing him to drive as he did on the night in question, provides sufficient proof of his conscious disregard of the rights of others."
Fortunately, in 1994, the Virginia legislature, recognizing the difficulty of proving a punitive damage claim, enacted Virginia Code 8.01-44.5. That law enables a plaintiff to pursue a punitive damage claim if three criteria are met: 
the defendant's blood alcohol content at the time of the crash meets or exceeds .15%; 

the

defendant knew or should have known that his/her ability to operate a vehicle would be

impaired; and 

the defendant's

intoxication was a cause of the plaintiff's injury or death.  
Because punitive damages are awarded on top of compensatory damages, they can significantly increase the amount that a plaintiff receives.
Societal Benefits of Punitive Damages
Punitive damages don't only punish the defendant — they serve public policy by sending a message to the community that the outrageous conduct leading up to the punitive damages will not be tolerated and thereby act as a deterrent to others. This societal purpose is contained within the Virginia Model Civil Jury Instruction number 9.080 on punitive damages, which provide in part as follows:   
If you find that the plaintiff is entitled to be compensated for his damages, and if you further believe by the greater weight of the evidence that the defendant acted with actual malice toward the plaintiff or acted under circumstances amounting to a willful and wanton disregard of the plaintiff's rights, then you may also award punitive damages to the plaintiff to punish the defendant for his actions and to serve as an example to deter him and others from acting in a similar way.  
If a drunk driver's behavior is reckless enough to cause injury, you may be able to pursue punitive damages in Virginia. If you are considering a lawsuit, you should consult an experienced car accident attorney to determine if you can receive punitive damages. At Curcio Law, we have extensive experience representing people hurt in drunk driving accidents. For more information, call or text us at 703-836-3366, email info@curciolaw.com, or visit www.curciolaw.com.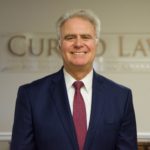 Tom Curcio has devoted his career to representing people seriously injured or killed in car, pedestrian, bicycle, and truck crashes, and by dangerous dogs, unsafe products, and premises. He works tirelessly to obtain the compensation his clients are legally entitled to so they may rebuild their lives with dignity. Tom is the co-author of the book Evidence For The Trial Lawyer, and a much sought-after speaker on personal injury, trial practice, evidence, and professionalism. Contact Tom at tcurcio@curciolaw.com.