The holidays are the time of year to take some well-earned time off of work to celebrate with friends and family, enjoy home-cooked meals and exchange gifts. It's also the time of year for holiday-themed parties.
Whether the party is a large family gathering or a "Secret Santa" gift exchange with friends, there is plenty of fun to be had in the month of December. With that being said, it's important that holiday party hosts prioritize not just fun, but guest safety. Here are some safety tips to keep in mind this holiday season:
Alcohol Safety  
Many holiday parties serve alcohol. If that's the case for a party you're hosting, here are some steps you can take to decrease the chances of an alcohol-related accident occurring:
Be mindful of how much people consume. Let people enjoy a few drinks, but if someone seems to be taking it to an unsafe or unhealthy level, it's fair to cut them off – after all, you're the one hosting the party. Don't embarrass them in front of people, but remind them that it's your house, and it's your responsibility to keep them safe from harm.
Don't let tipsy friends drive home. It's a no-brainer that someone who is visibly intoxicated, stumbling or slurring their words shouldn't be behind the wheel, but some people will insist they're "good to drive." Instead of letting them drive home, encourage them to spend the night or call a taxi, Uber or Lyft.
Serve plenty of food and water. Drinking on an empty stomach is a bad combination. Alcohol is absorbed slower if there is food in someone's stomach, which keeps them from getting too intoxicated too quickly. Having food on-hand for guests to munch on during the party can prevent this from happening. On that note, also encourage everyone to alternate between alcohol and water, as this will encourage people to drink slower and rehydrate throughout the evening.
The holiday season is also an excellent time to remind your teens, especially if they or their friends are driving, to never drink and drive or get into a car with someone who has. Talk to them about the dangers of drinking at their age, but also let them know that if they ever find themselves in a dangerous situation involving alcohol, you are just a call or text away. Knowing that you are available to drive and pick them up – even if you're mad – could stop your teen from doing something dangerous.
Premises Safety
As a property owner, it's your responsibility to keep your home safe and free of hazards. While hosting a party with a large group of people who may be drinking, this becomes even more important, as accidents are more likely to happen. Being mindful of a few things can help to avoid an accident that could fall onto your shoulders later:
Check for tripping hazards. Is there a crack in your sidewalk or uneven steps? If so, try to repair it before the day of the party. At a minimum, make sure that every guest is aware of a potential hazard as they're entering and leaving your home.
Remove snow and ice. Winter comes with snowy days and freezing temperatures, which can mean slippery conditions on your sidewalks and driveway. Remove any snow or ice on your property's walkways before the party so nobody slips-and-falls, which can cause serious injuries like sprains, fractures, and concussions.
Make sure your property is well-lit. Winter also comes with early sunsets, so it will likely be dark by the time your guests arrive to your house. Make sure that the lighting is adequate for people who are entering and exiting your home. It's easy to miss steps, pathways, and obstacles if it's too dark to see. Add alcohol into the mix, and it's easy to see how a poorly-lit property is an accident waiting to happen.
Another thing to keep in mind is Christmas tree fire safety. According to the National Fire Protection Association, there is an average of 160 Christmas tree fires per year in the U.S. These Christmas tree fires cause an annual average of $10 million in property damage, injuries, and even deaths. To avoid this, keep your live Christmas trees away from heaters, radiators, candles, and fireplaces and water it regularly to prevent it from drying out.
Ultimately, it's on you as a host to keep people in your home safe. By following these common-sense safety tips, your home can be a festive and safe place, and you can enjoy yourself as much as your guests!
All of us at Curcio Law wish you and yours a happy and safe Holiday Season and a healthy and prosperous 2020! All the best, Curcio Law, 703-836-3366, curciolaw.com.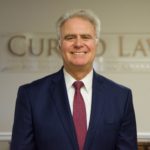 Tom Curcio has devoted his career to representing people seriously injured or killed in car, pedestrian, bicycle, and truck crashes, and by dangerous dogs, unsafe products, and premises. He works tirelessly to obtain the compensation his clients are legally entitled to so they may rebuild their lives with dignity. Tom is the co-author of the book Evidence For The Trial Lawyer, and a much sought-after speaker on personal injury, trial practice, evidence, and professionalism. Contact Tom at tcurcio@curciolaw.com.