Tide Pods are bringing a whole new meaning to washing your mouth out with soap.
Teenagers and young adults are a special brand of stupid. Over the years this age group has created a multitude of challenges, from the cinnamon challenge (ingesting one spoonful of cinnamon with no liquid in under a minute), the condom challenge (there were two, snorting a condom or fitting one over one's head), and now, the Tide Pod challenge (ingesting the colorful washing detergent).
The Tide Pod challenge was seemingly conceptualized this year when the internet began creating Tide Pod memes comparing the colorful packaged detergent to candy. This was an old joke made common by the Onion in 2015 with a satirical piece about a child promising to eat detergent pods. Since then, CollegeHumor videos and Reddit threads have been circulating the internet, goading impressionable teens into consuming the pods. In 2018 the posts went viral, coming to the forefront of internet memes. Today, if you go to Youtube and search "Tide Pods Challenge" nearly 25,000 results pop up of people trying to eat the gusher-like laundry pods.
According to the American Association of Poison Control Centers, there were 10,500 cases involving children under the age of 5 being exposed to laundry detergent packets in 2017 and according to the Consumer Product Safety Commission, two children and six adults died from consuming laundry pods between 2012 and 2017. To combat temptation Tide's website offers an extensive, multi-step guide to protect children and deter the consumption of the pods. 
The laundry pods pose two risks from being ingested. First, a person may aspirate on the liquid if inhaled into the lungs. Second, a person can become ill from ingesting it: vomiting, diarrhea, change in blood pressure, seizures, etc.
There is nothing more to say other than, parents stay alert and on top of trending challenges. Young people often think they are invincible and don't think about repercussions other than Youtube views and Instagram likes. It seems a bit Capitan Obvious, but educate your young ones on the dangers of ingesting laundry detergent.
To report exposure to laundry detergent pods, call the National Poison Hotline at 1-800-222-1222 or text POISON to 797979 to save the number in your phone.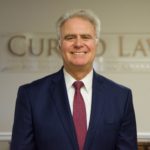 Tom Curcio has devoted his career to representing people seriously injured or killed in car, pedestrian, bicycle, and truck crashes, and by dangerous dogs, unsafe products, and premises. He works tirelessly to obtain the compensation his clients are legally entitled to so they may rebuild their lives with dignity. Tom is the co-author of the book Evidence For The Trial Lawyer, and a much sought-after speaker on personal injury, trial practice, evidence, and professionalism. Contact Tom at tcurcio@curciolaw.com.