In critical and time-sensitive medical emergencies, being airlifted to a hospital can be a lifesaving necessity. Far too often, however, families are left with crippling medical debt from these rides: one investigation completed by CNN unveiled medical airlift bills ranging from $34,000 up to more than half a million dollars. A separate federal investigation found the average medical airlift bill doubled from 2010 to 2014, going from about $15,000 to $30,000.
With this in mind, the Virginia House and Senate unanimously voted to pass a bill that came into effect on March 1, 2019. Under the bill, SB 663 Air medical transportation; informed decision,
Virginia patients that do not necessarily need air medical transport will be given a choice of transportation by an air medical transportation provider or medically appropriate ground transportation. While doing so, each patient signs a notice that informs them of their responsibility for out-of-network charges. The notice also includes an estimate of the typical charges for out-of-network air transportation in the geographical vicinity.
The law was designed with the underlying belief that it is not okay to keep patients uninformed of their potential liability to pay off catastrophically high bills. Doug Gray, executive director of the Virginia Association of Health Plans, views the law as a way to start protecting and informing non-emergency patients so they can make decisions for themselves: "it's a good start in helping to at least have an opportunity to have some control over what happens to them when it's not an emergency situation."
This law affects more people than one might realize.  In 2016, there were over 7,800 medical air transports in the Commonwealth of Virginia, or around 21 people per day. Approximately two-thirds of these flights were between medical facilities, and the other third of the flights came from accident scenes.
Medical situations that require transportation to the hospital are frightening on their own. Air medical transport is an important tool that can be used to save patients' lives; however, it is also important for patients to know when ground transportation is viable.
Adding tens of thousands of dollars of debt can financially and emotionally devastate unknowing individuals who accept air medical transportation. Through the implementation of laws like this, the Virginia legislature is rightfully stressing the importance of informing patients of their treatment and creating a more transparent healthcare system.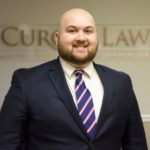 Rakin Hamad joined Curcio Law as an associate in August 2018 after graduating from George Mason Law School. During law school, Rakin demonstrated his dedication to client advocacy and was a member of the trial advocacy association, the pro bono society, and the George Mason Law Review. His approach to the law mirrors the firm's philosophy of treating each client with commitment, compassion and character. Contact Rakin at rhamad@curciolaw.com.