Walk into any high school, and nearly 1 in 3 of the students will have an e-cigarette, or an e-cig, with them. What started as a tool to quit smoking cigarettes (e-cigs contain nicotine, but do not contain tobacco) has turned into a fashionable accessory for many teenagers and adults alike.
E-cigarettes vary in how they look, some look like USB devices, and some look like pens, but almost all e-cigs are similar in that they are pleasantly flavored and produce clouds of smoke. The number of people smoking e-cigs has increased from 7 million in 2011 to 41 million in 2018, and it is estimated by 2021 there will be 55 million people smoking e-cigs.
It is clear that e-cigs are the newest "everyone is doing it" product, but recently the dangers of these products have raised questions.
What health concerns are associated with using e-cigarettes?
The dangers of e-cigs have been brought to the forefront due to the Center for Disease Control and Prevention (CDC) investigating the health risks of smoking e-cigs. In addition to the CDC, the Federal Drug Administration and Drug Enforcement Administrations have opened up criminal investigations into the makers of popular e-cigarettes and Congress has also started to conduct their own probes.
These agencies started investigating when cases of a mysterious lung disease started popping up across the country. So far, 805 people across 46 states have been diagnosed with this vaping-related lung disease and 13 people have died from this disease. So now, the reported symptoms of this mysterious lung disease are:
Fatigue
Nausea
Vomiting
Coughing
Fever
Shortness of Breath
Avoid black market e-cigarettes!
The most frightening aspect of these illnesses is that the actual chemical causing the illness is unknown. According to the CDC, out of 514 vaping-related lung disease cases, 76.9% of the users reported using THC in their e-cig. THC, or tetrahydrocannabinol, is the main psychoactive compound in marijuana. While THC is not found in e-cigs, a parallel to the explosion of the e-cig market has been the e-cig black market, and the black market has introduced THC into e-cigs.
Most e-cigs are reusable by replacing an empty cartridge with a new cartridge. These cartridges contain liquids that contain different flavors. The e-cig black market popularity has grown because the manufacturers are filling these cartridges with liquids that have different chemical combinations than the original manufacturer's liquid. Specifically, a significant portion of black market e-cig manufactures are creating cartridges that have THC oil to give users a similar sensation as smoking cannabis.
In order to stretch the supply of THC, some black market manufacturers have been adding vitamin E acetate, a thickening agent, to their cartridges. While the exact cause of the new lung diseases is unknown, some health officials have warned that inhaling vitamin E acetate could cause coughing, shortness of breath, and chest pains. While investigations are still ongoing, it is clear that black market cartridges are unknown with potentially fatal consequences.
Recently, plaintiffs have begun to file product liability lawsuits against e-cig companies. Lawsuits against e-cig companies center around an excess of nicotine in their cartridges and their marketing practices leading to personal injuries. Using any black market cartridges or devices is extremely dangerous from a health perspective, and from a legal perspective, it could also bar any potential claim you have against an e-cig company.
In any product liability case, misuse of the product is a legitimate defense that manufacturers have against product liability claims. The legal theory is that a manufacturer cannot be held responsible for injuries arising from an individual misusing their product. In the e-cig world, using a black market cartridge with a different manufacturer's e-cig would be a misuse of the product.
If you have developed any of the above symptoms after using an e-cig, you may be entitled to seek legal action. Please email me, call (703) 836-3366, or visit us at curciolaw.com today and we will follow up with you right away to discuss your case.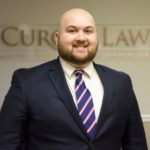 Rakin Hamad joined Curcio Law as an associate in August 2018 after graduating from George Mason Law School. During law school, Rakin demonstrated his dedication to client advocacy and was a member of the trial advocacy association, the pro bono society, and the George Mason Law Review. His approach to the law mirrors the firm's philosophy of treating each client with commitment, compassion and character. Contact Rakin at rhamad@curciolaw.com.