With summer in full swing, one thing is for certain: rising temperatures, particularly in parked cars, is a safety threat that must be taken seriously. This rings especially true for young children, infants, and pets, all of who are extremely vulnerable to the scorching heat that comes with summer days. Unfortunately, tragedy continues to strike each year when individuals leave their children – whether intentionally or not – trapped in hot cars.
2018 was the deadliest year for hot car deaths in two decades, with 52 recorded deaths of children trapped inside overheated cars. 2019 has already seen 13 child deaths, with all but one occurring before the summer season officially began. Most recently, a one-year-old Texas infant died on June 22 after being left inside a hot car for five hours. This came two days after a four-year-old child, another Texas resident, died after being left in a hot car on a day that peaked at 97 degrees. While not always recorded, thousands of animals are also victims of hot car deaths every year, according to the American Society for the Prevention of Cruelty to Animals (ASPCA).
Make no mistake: this is not a problem that is isolated to southernmost states like Texas. When the outside temperature is 86 degrees, interior car temperatures can increase to 105 in as little as 10 minutes. With average summer temperatures climbing well into the mid-80s, hot car deaths are a very real threat in Virginia: just last year, a set of five-month-old twins died after being left inside a vehicle in Chesterfield County.
Despite these tragedies, less than half of U.S. states have any laws addressing hot car deaths, and only eight have the possibility of felony charges. While individuals can be charged if their actions are interpreted as abuse or neglect, Virginia has no specific law in place that prohibits leaving unattended children in vehicles. There is also no Good Samaritan law for those who want to rescue children trapped in hot cars. The National Safety Council, which gave Virginia a "D" grade for policy changes to reduce hot car deaths, is pushing for every state to have stricter laws in place that allow for the prosecution of parents who intentionally leave children in cars.
Most of the time, these deaths are not the result of intentional acts of negligence. The National Safety Council found that in over half of hot car deaths, the driver of the car had forgotten that there was a child in the back seat before exiting the vehicle. 26 percent of the deaths took place after children entered vehicles on their own, and only 19 percent occurred after children were intentionally left inside.
While hot car deaths are a terrifying scenario to imagine – perhaps even more so for parents of young children – no one truly expects that they will be the next victim of an overheating accident. With that being said, it is critically important to take precautionary measures to prevent a hot car tragedy from occurring to your beloved child.
Simple Tips to Keep Children and Animals Safe from Hot Car Tragedies
Make sure your child is never left alone in the car – no matter how short the time you think you'll be gone.
If you have young children, lock your car doors and do not leave the car keys within their reach.
Put your briefcase, purse or jacket next to your young child if it's not your normal routine to drop him/her off at daycare.
Teach your child how to honk the horn in case they become trapped inside a car.
Call 911 immediately if you see a child left alone in a vehicle.
Do not assume that cracking the windows open for a pet is enough – that is a dangerous myth that causes thousands of pets to become ill or die. In fact, one Pediatrics study found that cracking a window open 1.5 inches does not decrease the rate of temperature rise in vehicles.
Do you have additional safety tips to share?  If so, please add them in the comments section below.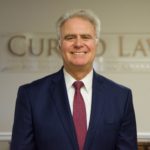 Tom Curcio has devoted his career to representing people seriously injured or killed in car, pedestrian, bicycle, and truck crashes, and by dangerous dogs, unsafe products, and premises. He works tirelessly to obtain the compensation his clients are legally entitled to so they may rebuild their lives with dignity. Tom is the co-author of the book Evidence For The Trial Lawyer, and a much sought-after speaker on personal injury, trial practice, evidence, and professionalism. Contact Tom at tcurcio@curciolaw.com.